ę Giant fish in the sky | Main | Mad Puppets Ľ
November 20, 2007
Space, Time and Flushing Toilets.
Or, to maintain the abstract notions: Space, Time and Money, the artistís classic conundrum. You can have any two, but not all three. If youíve got the money to get the space you wonít have the time to use it [because all your time will be taken up getting the money] etc...
Itís a balancing act. A balancing act akin to juggling hot potatoes, sitting on a unicycle, halfway across a slack wire strung over Niagara Falls, in the rain.
I like space, I like to be able to move about when I work. If I had a cat I would probably like to swing it from time to time. To get enough space to work requires money. Itís ironic therefore that to get said money I often end up working in the smallest room in the house, where cat swinging would indeed be a challenge.
When I finish the current Warm Watery Pipe and Waste Water Facility project I will have tricked out five bathrooms in the past year, I might also have enough of the three magic ingredients to do a bit of my own work.
But letís not hold our breath, eh? Thereís always this sort of thing lurking in a small room somewhere, trying to divert me from my creative endeavours: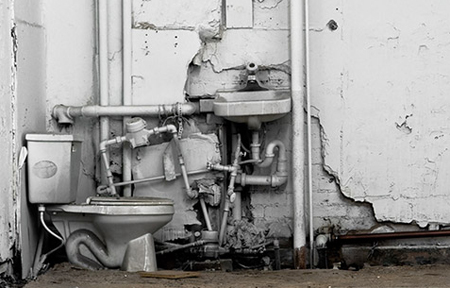 photo: Joseph O Holmes
no cats were harmed during the writing of this article.
Posted by john at November 20, 2007 11:05 PM
Comments