« Kirby's Egg Eyed Sharps | Main | Da Maus »
August 04, 2008
News just in…
Our enquires into the recent graffiti on Mr Jones' gable end have so far amounted to little more than a hill of beans. After clearing away the beans, considered unfit for consumption, we found that Da Maus wasn't there either.
However this morning, in the post, we received a photograph: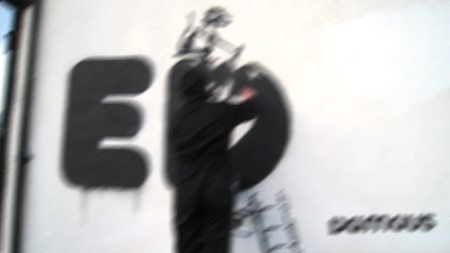 taken by a woman from Mytholmroyd, in a car, on her way to Tesco's, at about 20:30 on Friday night.
The case continues.
Posted by john at August 4, 2008 08:56 AM
Comments

........A good giggle first thing Monday morning is just what I needed,does the said photograph women normally shop at Tesco's ? does she go in for the buy one get one free promotions Hee Hee LOL : )xxxxxxxxxxxxx
I wonder what biscuits shes into my guess is NICE or Malted Milk..........i watch with interest as the case unfolds....!!!!
Posted by: paula at August 4, 2008 11:15 AM