ę March 2006 | Main | May 2006 Ľ
April 27, 2006
Return of the Dance
The Unstuck Dance project may surface again this year. Possibly.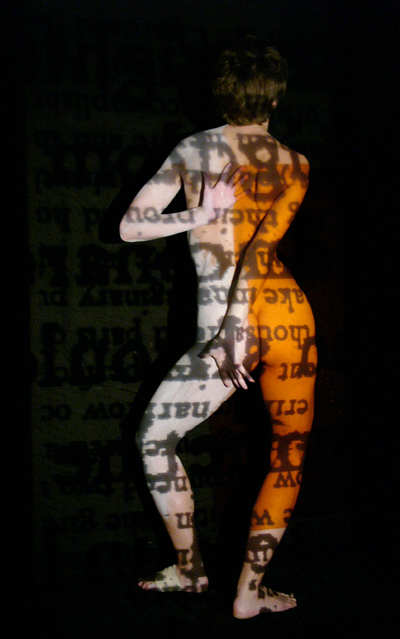 the excellent Rachel Brooker, dancer
Itís a long story, but in essence: Iíve been asked to make a short film about an arts project in Kosovo [in case youíre wondering how this sort of thing springs out of left field - I worked in broadcast television for 15 years]. So Iím going digital and buying a new camera and some editing software [Final Cut Express, for those who care about these things] and generally getting fitted up for film making.
Oh Boy! The digital imaging world is a complicated and intricate place. Itís tricky enough for still images, but moving images - even the acronyms are confusing. Anyway, the upshot of all this is that I can now produce the Unstuck Dance on film [or Digital Video] as I first conceived it.

Posted by john at 09:08 AM | Comments (1)
April 25, 2006
Don't just push the envelope - post it!
Itís about wanting to go further, itís about a big urge that you canít fulfill for one reason or another [usually another]. So you are prevented, cut off and not allowed to go there. But you donít just want to do flowers and fruit, you want to go there, so you push and it is in the pushing that the pictures come. Itís in the restraint that the art happens.
The big secret is - if you do actually get to go off limits youíll find nothing there, just a big empty unsatisfying void. Itís a disappointing place, in fact just like the place you came from. The expectation is far more thrilling than the revelation. But itís up to us, the artists, to go to these places, so we can tell the stories of our journey and, like magicians, present the awe that fuels the fire of the imagination and relieves the tedium of the daily drudge.

Posted by john at 03:56 PM | Comments (1)
April 24, 2006
Dutch Dick
Another illustration for the life and times of Dick Turpin rolls off the desk.
After getting into trouble in London for dark and dangerous deeds Dick flees to Holland where he stays, working the quays in Amsterdam for nearly two years, before returning to England.

1 February 1737
De Koe, Rotterdam
My Elizabeth,
I am taking a Passage which will bring me to Harwich on Tuesday 8th February. It is better for the Time being if I do not linger in Essex or in Middlesex Ė I do not know who may still be sniffing about for a Scent of me Ė but there is a Dog I trust keeps a Kennel in Puckeridge. You remember Ė a stout, Dragon-hearted Fellow.
Be there to meet me at Noon on Thursday.
I am, yours,
R
extract from chapter 10, by Rebecca Stephens
Posted by john at 09:18 AM | Comments (0)
April 19, 2006
Back in amongst the flake white
Mixed up a mess of Flake White today and cut it with a bit of Genuine Rose Madder and a bit of Naples Yellow. Lots of turpentine [genuine o' course] made it thin and quite transparent, so I could wipe through to the previous tones. I worked some French Ultramarine/Alizarin Crimson into the lines and dry brushed some Cadmium Red Deep into some of the shadows.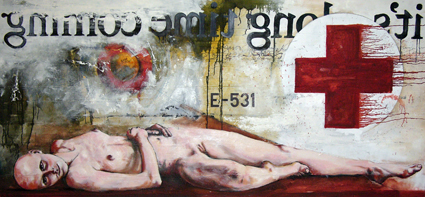 Things are looking up. It's looking a bit different. And maybe, just maybe, a little bit like what I have in my head. Though it's a fine line. Shaved heads and pale skin tones have a morbidity that I'm not looking for. I can do rosy-sitting-in-front-of-the-log-fire skin tones all too easily. I want to get pale-fragile-vulnerable without going corpse or cancer victim, and thatís tricky.
Posted by john at 10:55 PM | Comments (0)
distractions...
After a brief lull in the high-powered inertia of painting [due to chasing the Easter Bunny across West Yorkshire] and a short excursion into the dark arts of photography:
I am now getting back to work in the Oil Painting Industry and generally resuming the delicate art of flinging paint about a bit.
more pictures soon...
Posted by john at 11:32 AM | Comments (4)
April 13, 2006
s' more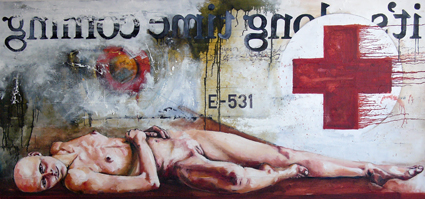 Posted by john at 08:38 PM | Comments (0)
April 12, 2006
Today's splodges
Mainly bitty Flake White with a heap of wet Spectrum Red, Burnt Sienna and Burnt Umber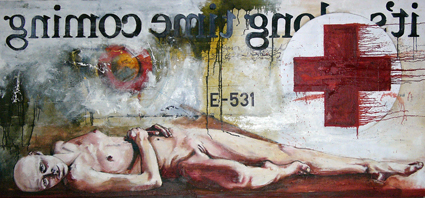 Posted by john at 10:33 PM | Comments (0)
April 09, 2006
Lighten up
Spent most of the day looking at the picture. Wandering round, sitting in the chairs, banging the drum, listening to the radio, falling a sleep, picking things up, putting them down, wondering where to go with this. Then finally at about 10:30 pm I mixed up some white paint and picked up the brushes.
People ask: "how long does it take to paint a picture?"
It's a difficult question to answer.
Posted by john at 12:36 AM | Comments (0)
April 08, 2006
Larger than life
A couple of people who've been to the studio were suprised at how big the picture is, so this should give you a better idea of the scale:
A Paris gallery once arranged for a famous painting by Picasso to be exhibited. They sent a removals van and five men to collect it from Picasso's studio. The painting had been in many books and catalogues, but the gallery obviously hadn't read the small print as the picture was only about 300mm [one foot] wide. The men took it in turns to carry it I imagine.
You can see more pictures of the studio and the painting on my website, but if you're looking at this after the 14th of April they won't be there [there'll be other pictures though because I up-date the page every week]
Posted by john at 12:35 AM | Comments (0)
April 07, 2006
Darker days
Oh dear it all seems to be getting a bit dark at the moment.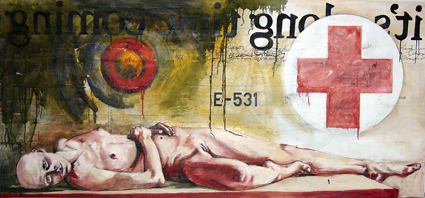 It can get lighter again once itís dried. I donít know where itís going at the moment. That is: I donít have a fixed idea that I am trying to achieve. I donít have a plan or a rough or any particular layout. I react to what I see as the painting progresses and I move things along as required.
I donít have an objective that I establish and then set about accomplishing with a set of skills and techniques. I use skills and techniques to achieve effects during the painting to try and convey feelings. This means itís really hard to tell when a painting is ďfinishedĒ, in a way a painting is never finished, I just stop painting it.
I do have a feeling that I want to convey, I do have a feeling of how I want the painting to look, but it isnít something I can draw out beforehand and then colour in.

Posted by john at 11:59 PM | Comments (0)
April 06, 2006
The day's fiddling
Spot the difference
clue: there are many
Posted by john at 11:06 PM | Comments (0)
The picture progresses
Lettering on a picture is difficult. Lettering or text demands reading and reading often demands meaning. Sometimes I don't want a meaning I just want a sense of history that text can give, or a sense that there is a meaning if only we could decipher it.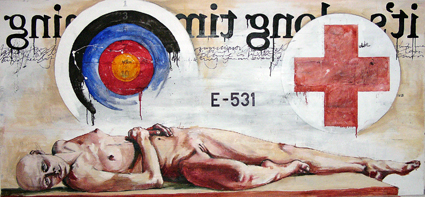 oil, acrylic, fabric and mixed media on panel 1110mm x 2390mm
With this I wanted the top, large phrase, to have some meaning, but not to dominate as a title. It may well become the title, I don't know yet, but for now it is reversed and partially hidden to obscure it.
Posted by john at 01:30 AM | Comments (0)
April 05, 2006
Do as Dine does
Thatís Jim Dine. As previously mentioned in these diaries, Jim Dine believes if you can do something once you can do it again Ė better.
Indeed I too believe this, and I feel it is a true test of integrity. That is: it serves to prove things arenít just luck, or happy accident.
Jim Dine takes this to extremes and actually rubs out good drawings to do better ones on top. I am usually too terrified to do that [fear of finding out I canít do it better] but I have been known to rub out drawings that I feel donít work and work over them. This has two advantages, it saves paper [and therefore the planet] and it gives a sense of history to the drawing as bits of the previous drawing show through in a palimpsesty kind of way.
The painting featured in the last two posts seemed to be going along familiar lines and I want to push things a bit further. I sat and looked at the picture for a couple of days, then I wandered round, hitting the drum every now and then, for another couple of days. I wanted to paint over the image and generally get messy with it, but didnít want to spoil what Iíd already got.
Finally I realised: if Iíve done it once I can do it again Ė better. So Iíve done it again:
Whether itís better or not weíll have to wait and see. But Iíve found a degree of freedom now. Suddenly this picture doesnít matter so much, I can do what I want now without fear of losing anything.
Posted by john at 03:30 PM | Comments (0)
April 03, 2006
How it works, with a knee for example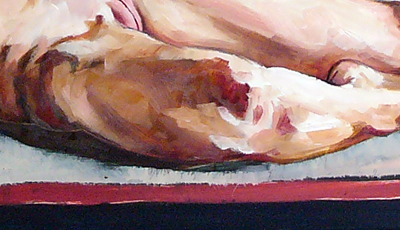 not quite there yet, but you get the idea?
Posted by john at 12:03 PM | Comments (0)