« January 2008 | Main | March 2008 »
February 27, 2008
On the Saddell Estate
After an 8 hour drive in lashing rain, not knowing, half the time, whether we were on a motorway or on the North Sea, battling against high seas in a rising gale, pulling the herring nets in with frozen hands, as the waves crashed over the decks, we got back from an exceptional weekend in the Highlands of Scotland, celebrating Jim and Britt's joint 40th birthdays. Then we unloaded all the fish from the back of the van.
more photos here
Posted by john at 10:12 AM | Comments (1)
February 26, 2008
looking at the big screen

The Odeon cinema in Huddersfield checked the film today, ready for the preview on Thursday night. It looked good on the big screen, quite a leap coming from a 23" monitor to a 32' screen. The sound track was amazing with the full sound system. It's 7:45 for 8:00 pm, Thursday 28th Feb, if you're in town.
Posted by john at 11:35 PM | Comments (0)
February 13, 2008
Farewell Polaroid
They say they won't be making any more Polaroid film. So we must say goodbye to the familiar square picture that's slightly out of focus and gloriously unsaturated.
Umm... I think I'll go out and buy up some remaining stock - I feel a project coming on.
Posted by john at 03:14 PM | Comments (0)
February 12, 2008
The Penguin Cafe
When you start going through old notebooks you dig up all sorts of lost treasure:
"I am the proprietor of the Penguin Cafe, I will tell you things at random, the quality of randomness, spontaneity, surprise, unexpectedness and irrationality in our lives is a very precious thing, if you suppress it to have a nice orderly life, you kill off what's most important."
Simon Jeffes [1949-1997]
I don't know when I first heard the Penguin Cafe Orchestra, but I remember the extraordinary coincidence when, sitting next to Tim the Vision Mixer of Maidstone, I happened to mention I really liked them, Tim said "Oh, Simon, yes, he's my brother."
Posted by john at 08:43 PM | Comments (0)
February 11, 2008
The notebooks
When I was at college, in Liverpool, last century, heh heh, my tutor told me to keep notebooks. When the muse has settled on your shoulder and the inspiration is flowing you won't have enough time to do everything, so write it down in notebooks. Then, when the lean periods come, when you enter the creative desert, when the inspiration well dries up, you can go through the books and pick up a few threads.
Sound advice. I have kept notebooks ever since.
Here is a page from one of my college notebooks, which sprung to mind as I was putting the leader on the Babbling Fools film: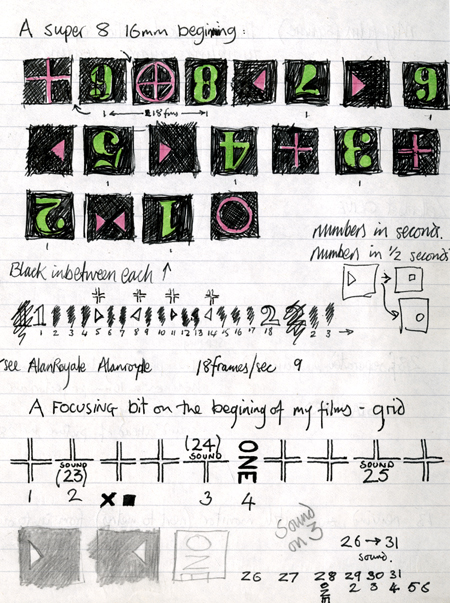 Posted by john at 04:31 PM | Comments (0)
February 09, 2008
Ruddyspam
I've turned all comments off, after being hit, at about 3 o'clock this afternoon [GMT], by more than two thousand adverts for penis enlarging drugs, car insurance and poker.
What a mix? I guess there are millions of guys going round in big cars, with huge dicks, playing cards. But don't the fuckwits who do this sort of thing realise that after reading the name of their infernal product for the umpteenth time while batch-deleting them in their hundreds, there ain't no way in heaven [or earth for the less spiritually minded] that I would ever dream of buying their sodding pills/insurance/card games.
In fact if I see the stuff on the shelves of some unsuspecting chemist I'll likely go berserk and smash it to smithereens. Luckily I don't, as a rule, frequent unsuspecting chemists.
Posted by john at 05:35 PM | Comments (0)
February 02, 2008
creative accountancy
I remember sitting in a television studio in Glasgow when my friend Adrian came in and announced that the number of accountants had just overtaken the number of programme makers. It was 1996.
Lars von Trier's company, Zentropa, has a good policy when it comes to accountants. They won't employ a lawyer or accountant unless they can play an instrument.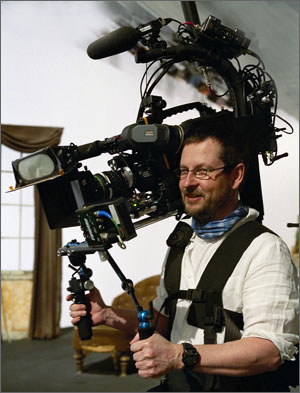 Lars von Trier, filming Dogville
Zentropa have lots of rituals in Filmbyen, literally Film Town, in Denmark. For instance every time a new script goes into production it's ceremonially dunked in tea in a teacup that once belonged to Danish director Carl Theodor Dreyer.
Nothing wrong with that.
Posted by john at 07:19 PM | Comments (0)
February 01, 2008
weaving wonder in the woods
Last time I worked with Alive and Kicking Theatre Co. we spent our days creating a fictional fantastic world in the woods to tell stories and weave magic...
This year I'm again working with Alive and Kicking, only now we are in the inner-city, working in South Leeds - one of the poorest areas in Europe according to some figures. It certainly is a desolate place.
Posted by john at 10:27 AM | Comments (0)