ę December 2008 | Main | February 2009 Ľ
January 31, 2009
Obliquus externus
Posted by john at 12:52 PM | Comments (0)
January 30, 2009
Trapezius
Posted by john at 01:46 PM | Comments (0)
January 29, 2009
Deltoideus
Posted by john at 11:48 PM | Comments (0)
January 27, 2009
On the light fantastic toe.
When not covered in the grime of a thousand coal fires recently released from a lathe and plaster ceiling, Iíve been photographing dancers. Namely the dancers who danced the white torsos in the film [which is fast approaching completion].

Elodie

Marie
Posted by john at 04:58 PM | Comments (0)
January 26, 2009
Pulling down the ceiling
Filthy things ceilings.
Oh, the bit you look at is fine, itís on the other side that the dirt lies in wait. Above the lime plaster, on top of the lathes. Thatís where the accumulated filth of decades is. Waiting for someone to come along with the easing tool and pull down the ceiling.
I know, Iíve been there more times than I care to remember. The thick black choking dust, the grit in your hair, the stinging in your eyes and nostrils [even with the latest health and safety attire]. Uneven underfoot as sharp broken lathes mingle with lumps of crumbly lime plaster. Staggering around, slightly dizzy through lack of oxygen and partial blindness. With arms like lead because youíre working the heavy easing tool above your head.
Then the dust settles slowly, and the sweat on your face dries, and the children in the house giggle when you appear from behind the dust sheets.

Nails McFugger, several hours after the event, just before getting in amongst the soap and scrubbing brushes
Posted by john at 06:39 PM | Comments (0)
January 23, 2009
Searching the search engines.
What image díyou think has most often been plucked from the pages of these diaries to illustrate other peopleís iterations?
One of the paintings perhaps?
Or a photograph of a white-painted dancer?
Or the eclipse, maybe?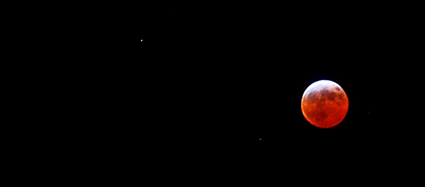 No, none of the above. The image most often poached is this: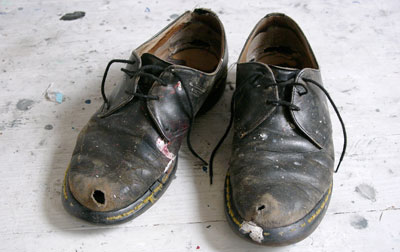 My old shoes. And since your man threw his at Mr Bush, itís enjoyed particular interest.
Posted by john at 10:54 PM | Comments (2)
January 21, 2009
A short film about applause.
I'm making a short film about a machine that claps.
A very short film Ė itíll all be over by the one minute mark.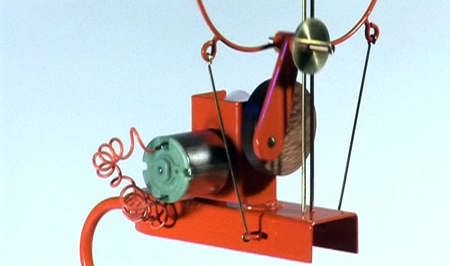 The machine is build by Laikingland, from an original idea by kinetic sculptor Martin Smith, and is available, in a range of colours, after a suitable exchange of currency, from their website.
And indeed the film will soon be on their website too I imagine.
Posted by john at 03:48 PM | Comments (1)
January 20, 2009
Meanwhile in Catalonia...
In Spain, Antoni Tapies is daubing his way to immortality.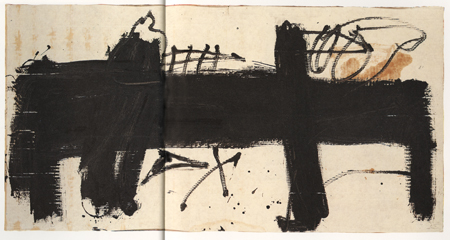 Pintura sobre cano ondulat, acrylic and varnish on cardboard, 1981
Though he doesnít always hit the mustard, I feel. Some of his three dimensional work leaves a lot to be desired.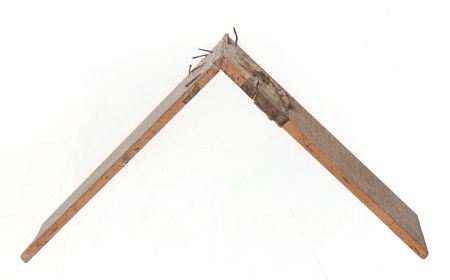 Angle de fustes i claus, wood and nails, 1970

Antoni Tapies
Posted by john at 04:03 PM | Comments (0)
January 19, 2009
American Abstract Expressionism
Franz Kline was wont to doodle on an old phone book with a biro then blow it up big time with an overhead projector and paint it in with dripping black brush strokes.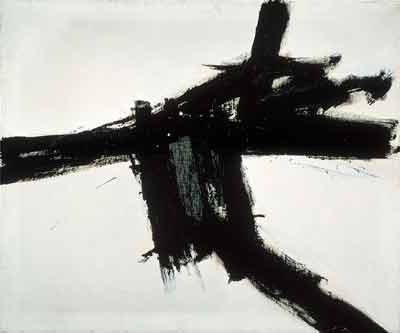 This was referred to as spontaneity, but was mostly premeditated.
Cy Twombly would doodle and scratch in a seemingly spontaneous way across huge off white canvases.
Robert Motherwell was into his long running series of Elegies to the Spanish Republic, of which this is No. 110:
All three attended the Black Mountain College a hot-bed of creative talent from 1933 to 1956, in everything from painting and sculpture to architecture and modern dance.

Robert Motherwell in his studio

Cy Twombly in his studio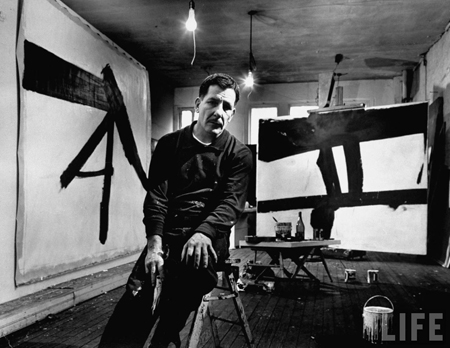 Franz Kline in his studio [photograph: Fritz Goro]
Posted by john at 11:29 PM | Comments (0)
January 18, 2009
When art meets building

proposed junction of steel beam, stud wall and floors, at Jim and Britt's. Ink on paper 120mm x 140mm
Posted by john at 06:31 PM | Comments (1)
January 17, 2009
When women drove racing cars
Miss Elinor Blevins at the wheel. 1915
thanks Shorpy
Posted by john at 01:16 PM | Comments (0)
January 14, 2009
Back in amongst the moving images
Starting to fiddle with fine cuts of the dance film TRAPEZIUS - as it has become known.
I'm up there with the twisting torsos, tapping my toes to the frisky beats currently to be found bouncing off the walls of Mr Sanderson's office.
Posted by john at 09:12 PM | Comments (2)
January 13, 2009
The Printing Office
Framed upon the wall of my brother-in-lawís printing works: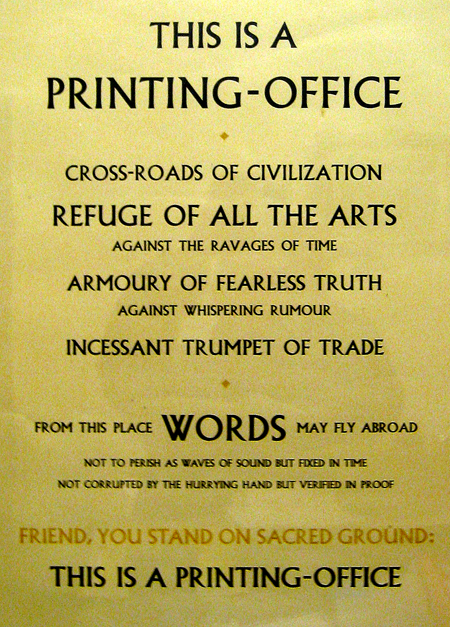 written in a time before television, I feel.
Oh, and in case you can't see the small print:
Not to perish as waves of sound but fixed in time
Not corrupted by the hurrying hand but verified in proof
Posted by john at 06:30 PM | Comments (0)
January 12, 2009
What some people have said
"Curiosity killed the cat - but for a while I was a suspect."
Steven Wright
"Never knowingly understood."
Ivor Cutler
"Rembrandt painted 700 pictures. Of these, 3,000 are still in existence."
Wilhelm von Bode
"When I've painted a woman's bottom so that I want to touch it, then the painting is finished."
Renoir
"This is either a forgery or a damn clever original."
Frank Sullivan
Posted by john at 11:59 AM | Comments (0)
January 11, 2009
Addendum
The Fig Roll, like boiled eggs and jazz music, should be sampled sparingly.
Posted by john at 03:01 PM | Comments (0)
January 10, 2009
Of Biscuits and other treats
Abbey biscuits were the biscuit of choice in my childhood Ė though not necessarily my choice, it has to be said. The Abbey biscuit was a very sweet oatmeal biscuit with a distinct crunch, indeed it later became known as Abbey Crunch.
In rare moments of munificence my mother would splash out on a packet Custard Creams.
Even more rare was the appearance of something like Sugar Puffs Ė Corn Flakes or Shredded Wheat being the breakfast staple.
So now, with the financial crisis engulfing us and the frost nipping my toes itís to Custard Creams and Sugar Puffs I turn for comfort. Could be worse I guess.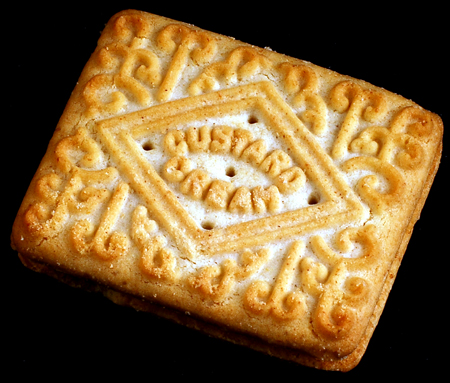 Posted by john at 09:51 PM | Comments (1)
January 07, 2009
Science and engineering
How come we can get photographs of Jupiter and its attendant moons, but they can't get the ticket barrier system to work at Sainsbury's?
UPDATE: they've been fiddling about with the system for about two years and they still have to have men in big yellow jackets standing in the rain to help out when the barrier doesn't move.
Posted by john at 02:01 PM | Comments (1)
January 01, 2009
Silvester
Unfortunately not having had a plot to blow-up the Reichstag with gunpowder in the 17th Century, the Youth of Germany has to rely on New Yearís Eve as an excuse to inflict burns on themselves and their friends.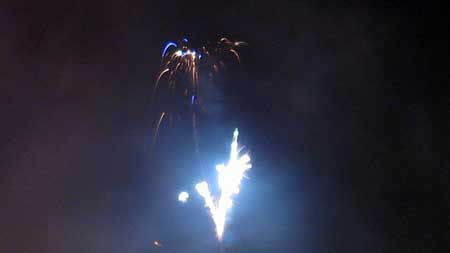 Teenagers stood in the square holding rockets in their fingers moments before they rushed skywards to deposit sparkles in the night. A thick layer of smoke hung in the cold orange-tinted air as boys walked about the smouldering cobbled battlefield igniting Chinese paper-wrapped boxes of bright coloured Whoosh.
Posted by john at 11:23 AM | Comments (0)