« June 2009 | Main | August 2009 »
July 31, 2009
Old Printing Things

the gum stripper

the leading guillotine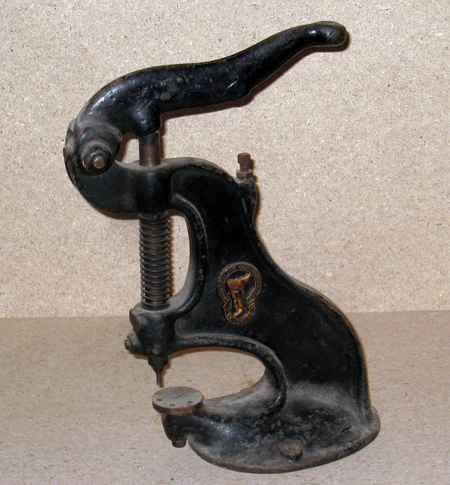 the hole punch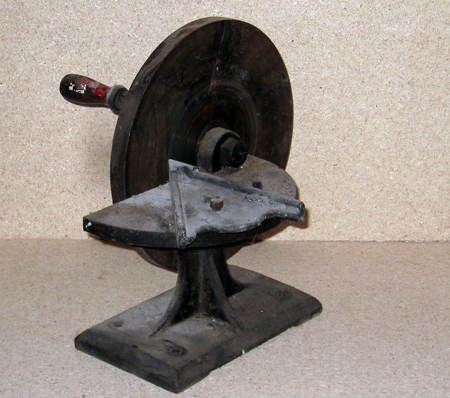 the mitre wheel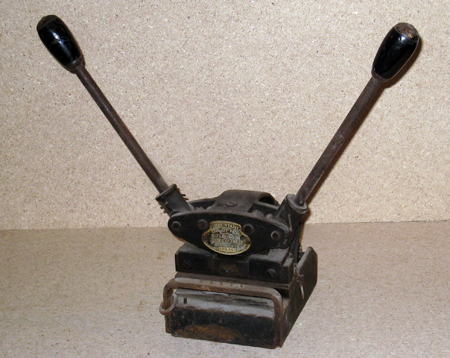 the pressy thing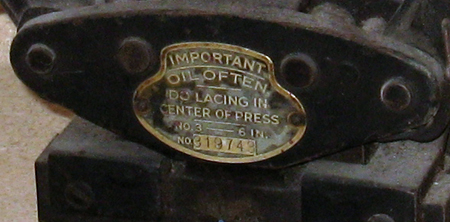 oil often
Posted by john at 09:05 PM | Comments (1)
July 30, 2009
Mr Gormley's Art Project
My good friend Sue Lawty's daughter, Katie, was up on the plinth this week. On a rainy Monday morning between 6 o'clock and 7 o'clock.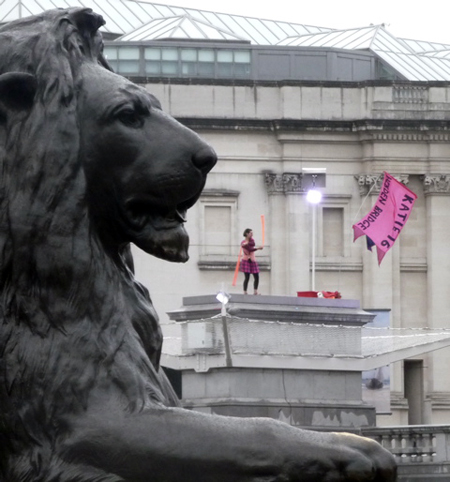 photo Sue Lawty
At 16 Katie was the youngest person so far to inhabit the granite edifice, you can watch her shenanigans here [though you have to wait for the other person to get off first]
Sue was there and I imagine the dialogue went something like this:
"Katie! Get down from there NOW!"
"Mum!"
"What have I told you about climbing on things?"
"But Mum, I'm doing an arts project"
"I don't care what you're doing – get off there this minute."
"It's for Mr Gormley"
"I bring you all the way down to London, to Trafalgar Square, to see the pigeons and the nice statues and you go and start climbing on things. Of course I blame your father…"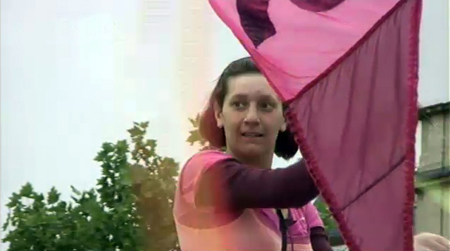 Posted by john at 08:06 AM | Comments (0)
July 29, 2009
a certain order of things
To start the kitchen we had to clear the attic, because we're using the floorboards from the attic for the kitchen floor.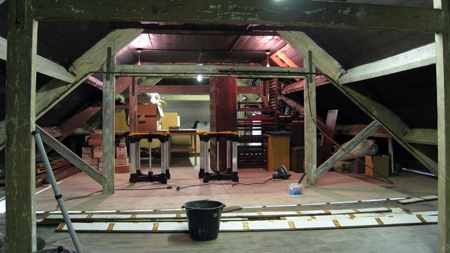 replacing the floorboards in the cleaned out attic
in amongst the stuff we don't want were lots of things we do want - old printing things, from wooden letter blocks to brass machines for putting two strips of gum on a piece of foolscap. It may not be so often that you want two strips of gum on a piece of foolscap, but when you do we've got the machine for the job.

type shelves
Posted by john at 10:23 PM | Comments (0)
July 26, 2009
meanwhile...
...amongst the un-building, work goes on:
making the set for the Lawrence Batley Youth Theatre production.

Posted by john at 10:44 PM | Comments (0)
The un-building tools
To get a decaying building up to speed first of all you must needs chop out all the unwanted stuff.
The yards of cast-iron heating pipes, the umpty-metres of 3-phase wiring, the old lath and plaster partition walls. For these tasks the tool box is relatively simple: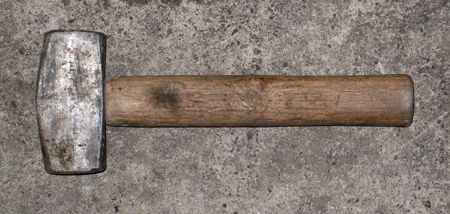 the mash hammer

the easing tool


the gentle persuader


the shifting spanner

the ripping axe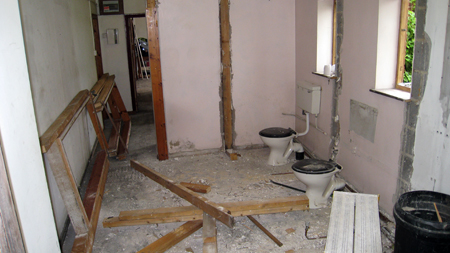 gainful employment of the above, un-building a washroom
Posted by john at 08:30 AM | Comments (0)
July 20, 2009
setting the scene
The basement, below the stage, of an old run-down theatre, in Leipzig, in the 1920s, perhaps...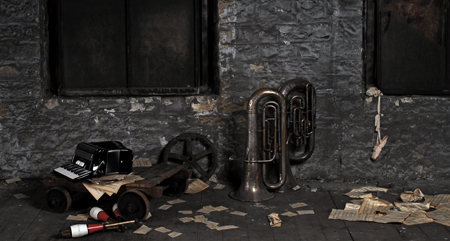 …or as it would have been, if it was, as it were…
…and top of the bill: Laura B and her Bavarian accordion…
Posted by john at 09:50 PM | Comments (0)
more of the goings-on upstairs
everything is flakey sooty whitewash upstairs...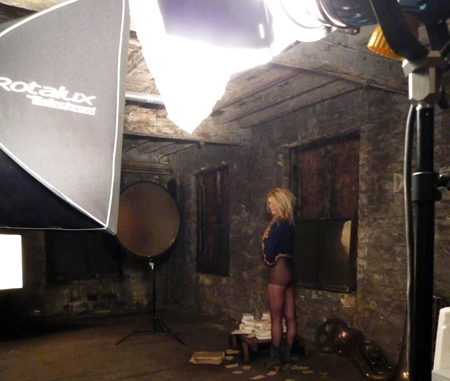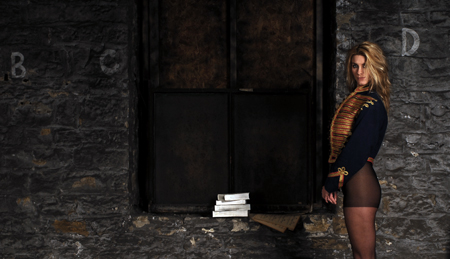 ...it absorbs the light like a sponge

Posted by john at 12:00 AM | Comments (0)
July 18, 2009
Upstairs
shooting upstairs at the mill...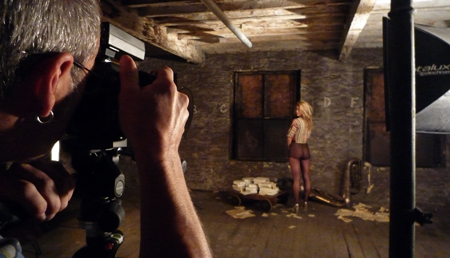 ...with the beautiful Laura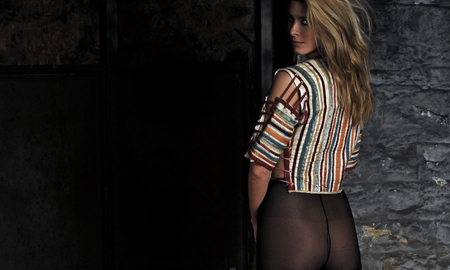 Posted by john at 09:05 PM | Comments (0)
July 17, 2009
derelict locations
setting up the shoot for tomorrow...
...and taking some lighting tests.
Posted by john at 06:41 PM | Comments (0)
July 16, 2009
Distributors and Isolators
The zappy stuff comes in, through a hole in the wall, into a Big Black Box with a sticker on the side, thoughtfully provided by Yorkshire Electricity, indicating that fiddling with this box in any way could result in extreme death.
It then goes up through thick serious red wires into a baffling array of isolators and distribution boxes.
These boxes feed other boxes dotted about the works, there are another eleven of them. Isolator 2 feeds Distribution Box 2, so far so good, but then things hot up: Distribution Box 2 feeds Isolators 4, 5, 6, 8, 9 & 10. What's happened to Isolator 7 I've yet to discover.
All these boxes are fed by steel wrapped, four core, 3-phase, grown-up DO NOT TOUCH wiring. But assuming Isolator 2 would live up to it's name, I shut it off and proceeded to disconnect some of the black electric spaghetti currently festooning the beams.
Oh yes, it's all lively stuff down at the Printworks.
Posted by john at 08:37 PM | Comments (0)
July 15, 2009
timber deliveries
First of all you clear the place out,
then you fill it up with timber and insulation.
Posted by john at 09:38 PM | Comments (1)
July 12, 2009
possible goes probable goes to absolute
This week, in the wealthier parts of Barnsley and Manchester, the possible became probable as solicitors in dusty offices worked through the night [and what sort of night was it? A long dark night. And what sort of light did they use to illuminate their scratchings? Candlelight] to construct such wordy documentation as would secure my purchase of an old printworks.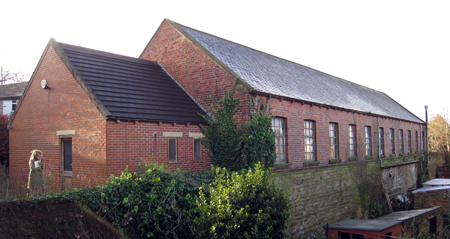 Then, on Wednesday, the probable became certain, papers were signed and witnessed, and McFugger Bros. moved in the big shifting tools. And so begins the long journey that will see the conversion of said printworks to studio and workshop.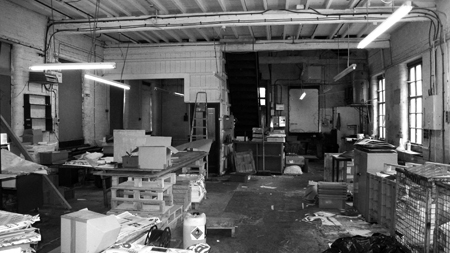 Posted by john at 09:28 AM | Comments (5)
July 06, 2009
of roses and pearls
been shooting the collection of graduate designer Marian Campbell:
with the wonderful Anna.
[admittedly you can only see a fraction of Marian's collection here - that is: a bit of a hat. We shot five outfits, so more to come...]
Posted by john at 10:44 AM | Comments (1)
July 03, 2009
more from the new lens
UPDATE [for those interested in this kind of thing] It was shot with the Nikon D200, in natural light, with an 85mm lens, a 30th second at f2.5, ISO 100, with a soft focus filter. Exposure levels adjusted in Photoshop.
Posted by john at 05:15 PM | Comments (1)
July 02, 2009
Huddersfield Terminal C
Oh, yes - and Huddersfield has an airport too:
just in case you were mislead by the digger - a close up of terminal C: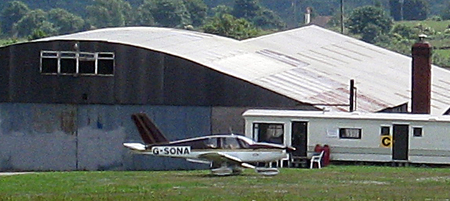 oh, alright then - airfield
Posted by john at 04:30 PM | Comments (1)
July 01, 2009
semantics

SMARTT have a different understanding of the phrase HEAVY DUTY, one I'm not familiar with, one more associated with the terms flimsy and not worth a flying fuck. [he thinks as the 9th bag of topsoil splits and tears]
Posted by john at 05:55 PM | Comments (1)