« Painting is killer shit | Main | not blowing eggs »
August 24, 2005
egg blowing
Some people start blowing eggs at an early age, and stick with it, for reasons known only to themselves.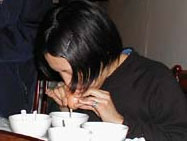 They get better at it, as is often the case if you stick at something. They become the best egg blower in the village, then the best egg blower in the area and get onto regional TV.
They continue their egg-blowing activities and in time become recognised as the leading authority on egg blowing, and indeed their collection of blown eggs and egg-blowing stories is considered unparallel. They appear on national television, and are sought after by many egg-related events and publications.
Their book: Blowing Eggs, becomes, if not a best seller, at least the final word on the subject. They get invited to speak at dinners. They are important. And they probably eat a lot of omelettes.

Posted by john at August 24, 2005 12:38 PM
Comments