« August 2010 | Main | October 2010 »
September 27, 2010
nearing the possible
I have of late been clearing out forgotten rooms in the corner of the Old Printworks and it could be that there is a chance that I might perhaps consider beginning to wonder if I might perhaps start to approach the possibility of recommencing the struggle of depicting three dimensional figures on two dimensional surfaces with the aid of various natural pigments suspended in linseed oil. To wit painting.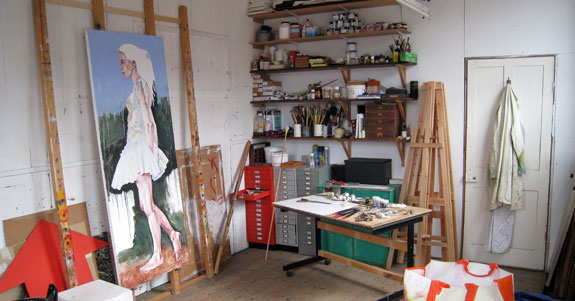 the new painting studio
Posted by john at 11:01 PM | Comments (3)
September 25, 2010
Vive la difference
"What's the difference" they asked me on my first trip to France in 1975 [and I translate for you here free of charge] "between marmalade and jam?"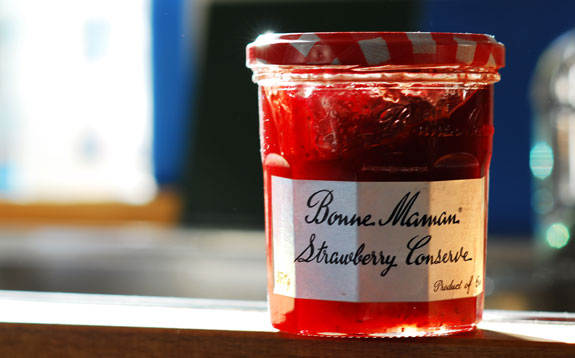 I was at a loss for adequate explanation then and it's taken me a mere 35 years to figure it out. I mumbled something about citrus fruit and strawberries and bread and toast and took a large gulp of pastis with a view to losing myself in its heady grasp.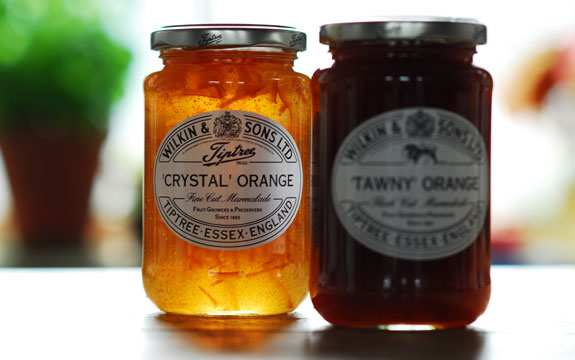 It doesn't help that in Germany they call jam marmalade and have been known to put mango chutney on toast.
Toasting bread caramelises the sugars therein, giving it the distinctive golden brown colour we know so well. This maybe makes toast taste sweeter than bread.
Marmalade, with its citrus fruit thing, is notably bitter and generally not as sweet as jam. So we put the bitter confection on the sweet comestible and the sweet confection on the less-sweet bread.
There are those who put jam on toast but their cause is not mine. My mother, I remember, would sometimes put marmalade on buttered bread late at night by way of a snack. A chef I knew in France would always put a spoonful of strawberry jam in Bolognese sauce - to take the edge off the tomatoes, he said, in French, naturellement.

Posted by john at 10:45 AM | Comments (2)
September 24, 2010
good drawing
in the creative industries, being able to draw well really helps. When I was designing games for television in the 90s, the producers and directors were always fascinated by my drawings:
Get Wet, Scottish Television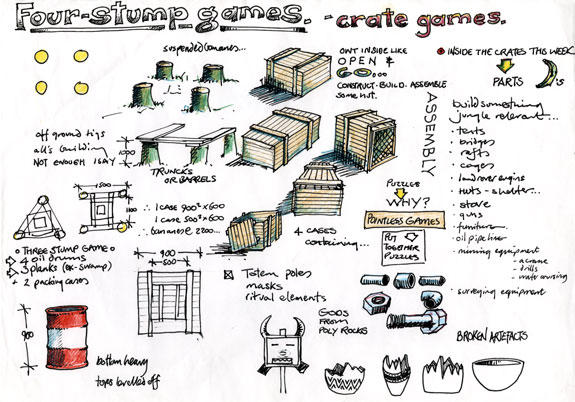 Jungle Run, Granada
here's some wonderful drawing explaining where ideas come from:
Posted by john at 10:47 AM | Comments (0)
September 21, 2010
more fools
well not really
the wonderful Susan Jinks
Posted by john at 06:32 PM | Comments (0)
September 19, 2010
Back amongst the Fools
Babbling and otherwise
Steve Evets in Babbling Fools
Posted by john at 09:09 PM | Comments (2)
September 18, 2010
The Language of Lead
here's the full Lead Mine text:
and here's what it might look like on the wall of the Lead Mine Museum:
Posted by john at 09:26 AM | Comments (0)
September 17, 2010
a place to relax
swinging slowly in the sun
turning gently in the breeze
Posted by john at 04:34 PM | Comments (0)
September 15, 2010
lead and steel
working on a typographic sculpture for a lead mine in North Yorkshire. A 5m high by 1m wide piece of COR-TEN steel, lasercut with some of the words used when extracting lead from the ground in the eighteenth century.
First decide the typeface. Serif would be good for the general connection and holding-togetherness of the letters, but not good for the laser cutting head which doesn't like pointy bits.
I went with Optima Extra Black as it has both thickness and softness with no pointy bits.
Next, stack the words on top of each other and swap around to give a good balance of large and small words, then adjust the individual letter sizes so that everything is as connected to everything else as possible. Not as easy as it sounds.
the top half of the design
All this is done in Adobe Illustrator then exported as a CAD file and sent to the engineers. They send back the cutting drawing:
I'm currently thickening up some of the connections on the edges to prevent little fingers bending the finished piece. Mind you in 6mm COR-TEN steel they'll need to be fairly strong little fingers.
Posted by john at 11:41 AM | Comments (1)
September 14, 2010
a brief history of the cinema
thaumatrope
fantascope
phenakistiscope
daedalum
zoetrope
kinematoscope
phasmatrope
praxinoscope
zoopraxiscope
kinetograph
kinetoscope
mutoscope
cinematograph
eidoloscope
panoptikon
phantascope
theatrograph
vitascope
kinetograph
polyscope
biograph
red one

Posted by john at 08:32 AM | Comments (0)
September 11, 2010
it's another list...
...but of what?
kibble
chatts
buddle
bing
bouse
trommel
hotch
horse
bucker
slimes
deads
middlings
and if it helps - four horses make one bing
Posted by john at 11:01 PM | Comments (2)
September 09, 2010
SUNNY AUTUMN LUNCHTIME, AFTER RAIN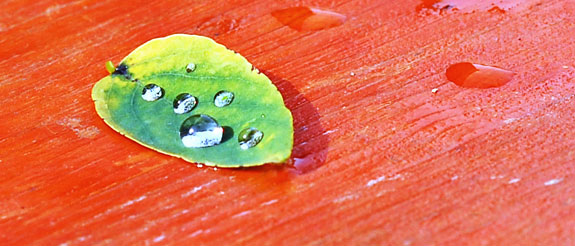 no colour adjustments - it's an orange table

Posted by john at 10:48 PM | Comments (0)
September 02, 2010
Trapezius
the full version of my latest dance film
Posted by john at 10:46 PM | Comments (4)