« May 2008 | Main | July 2008 »
June 30, 2008
25 Scratchy Photographs- opening night
Posted by john at 01:57 PM | Comments (0)
June 29, 2008
In the Future
In the future we will live our lives only according to the pictures we have seen.
Posted by john at 10:32 PM | Comments (0)
Unstuck Polaroid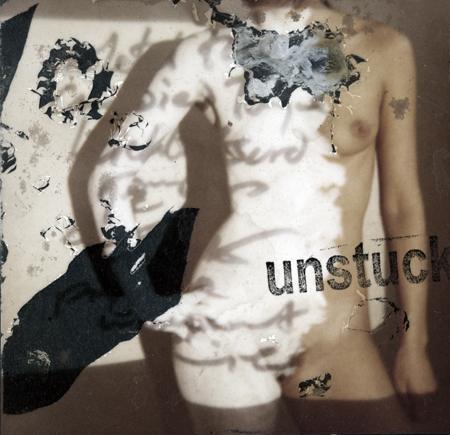 An early image from the beginnings of the Unstuck project.

Posted by john at 03:46 PM | Comments (0)
June 28, 2008
more than one way to skin a cat
Not that I've ever tried. There's also more than one way to paint a portrait. Ingres, at the sharp end of 400 years of studio tradition would blend and layer transparent oil paint until an amazing lifelike likeness was achieved.
Matisse, on the other hand, held that the colours didn't matter so long as the tones were correct. He would pitch solid colours next to each other in thick daubs and let them fight it out.
Ingres had a process, a system, to achieve his famous translucent skin tones. [Though he obviously had something else for when his students copied his process assiduously the results fell far short of the master.]
I don't have a process, for one thing I often can't remember from one session to the next how I achieved a certain effect. I like the actual act of painting. The physical business of looking and seeing and then trying to arrange a few colours and tones on a panel to give the effect of what I am seeing and feeling.
I like pushing the paint about - I like to see the whole thing at once, complete in every stage, so I can determine how it should progress. It is more a continuous experiment than an accumulated process.
I enjoy the struggle of putting paint up and seeing what happens. I like to keep all the colours working on the panel all the time, letting the picture appear rather than going through proscribed actions with a predetermined outcome.
Posted by john at 08:44 PM | Comments (0)
Return to the Locomotive Bridge
The bridge today, not a lot has changed,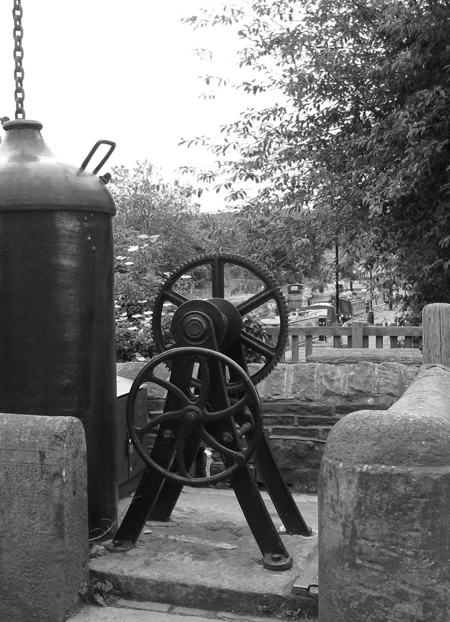 except that now you don't lift the bridge by hand, with the turny-wheel, but by means of electronic wizardry
Posted by john at 05:05 PM | Comments (0)
winding gear
Early days of photography, one of my first pictures:
The winding gear of the Locomotive Bridge over the Huddersfield Broad Canal, near the Aspley Basin.
The eponymous bridge.
Posted by john at 12:00 PM | Comments (0)
June 27, 2008
25 Scratchy Photographs
The selection is over, the Judge's decision is final, the organizer refuses to enter into any correspondence concerning the selection and all that rot.
And as is always the case with these things there are a lot of photographs which, though not selected, are worth a mention.
These didn't make it for the simple reason that I can't afford bespoke frames.

See the selected photographs at The Holme Valley Warehouse, Honley, HD9 6AA throughout July and August.
Posted by john at 05:56 PM | Comments (1)
June 26, 2008
Faulty Tables
The Mk1 Fully Truckable Fold-Flat Faulty Table is complete and ready for delivery.
It's rock-solid, capable of withstanding the weighty manifestations of the gothic machinations of a deranged puppeteer's mind and yet come apart into four easy pieces by deft application of the winged nut devices on the end of just four bolts.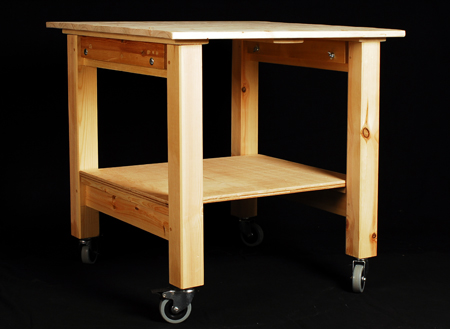 UPDATE: the whole assembly assiduously disassembled into the aforementioned constituent parts: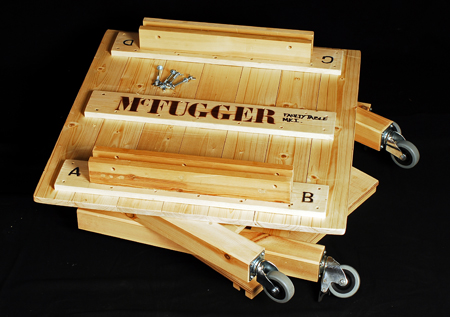 Posted by john at 07:51 PM | Comments (0)
June 25, 2008
In amongst the wood shavings
Today I'm knocking on wood. Some Faulty Tables must need be constructed for Faulty Optic.
Tables, on wheels that are solid and can withstand the rigor of a pair of puppeteers in full flight and still fold up flat for a life on the road.
In this case the folding option became too complicated, these will come apart to three easy pieces, with the aid of some wing nuts.
Posted by john at 02:37 PM | Comments (0)
June 22, 2008
The Chair - redux
I finished the short film about a chair, and it was shown last night, in a cinema in a Pennine village that has a far longer film history than that town in the Californian desert synonymous with all things filmy.
[Ironically Holmfirth has holly in its name too - holm is thought to derive from holgen, Old English for holly. Though firth doesn't mean wood, as some people like to think, it means river crossing]
The title, A COMFORTABLE MEANS TO PREVENT COLLISION WITH THE GROUND, refers to the semantic poem I wrote in 1979.
Life often imitates art, but films don't always stick to the storyboard.
Posted by john at 09:37 PM | Comments (0)
Trees of Innocence and make-believe
Many of my formative weekends were spent in these trees:

the Conker Tree, Aesculus hippocastanum, Carr House, Holmfirth

the Beech Tree, Fagus sylvatica, Carr House, Holmfirth
The conker tree was the hardest to climb, and the scariest to be in, all rough and sharp and dangerous - definitely the domain of pirates, picaroons and padfoots.
Posted by john at 12:01 AM | Comments (0)
June 21, 2008
Pebbles in space
Only one of these is currently in orbit round Mars:
The first picture is Phobos, one of the two moons of Mars, it's about 21 km across in this picture. The second is, somewhat pleasingly, 21 mm across.
photo: NASA/JPL/University of Arizona
Posted by john at 12:27 AM | Comments (0)
June 20, 2008
A week through the lens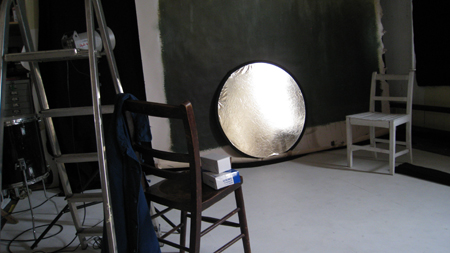 two torsos

blue punk

Rachel Jane Allen, for Spotlight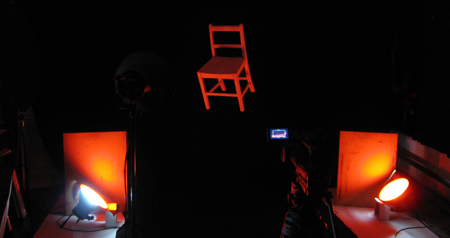 the chair, in the air
Posted by john at 10:18 AM | Comments (1)
June 17, 2008
Let's hear it for the chair!
The chair gets its own film.
A COMFORTABLE MEANS TO PREVENT COLLISION WITH THE GROUND

starring The Chair
co-starring Emily Franks
with the voices of Barry McGovern and David Robertson
previews at The Picturedrome, Holmfirth
on Saturday 21st June
some time after 8:00pm
[along with loads of other stuff]
Posted by john at 11:16 PM | Comments (0)
June 16, 2008
The Babbling Continues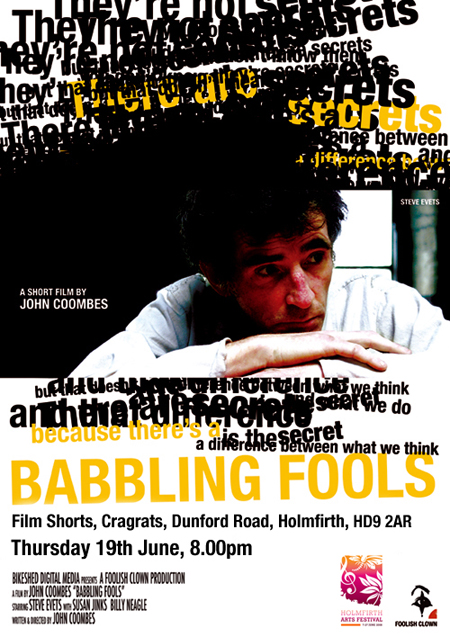 Posted by john at 12:16 AM | Comments (0)
June 14, 2008
Archie Pullen
Young fella by the name of Archie Pullen called round this week – said he wanted to be photographed as an eighteenth century student. Nothing wrong with that. [Except for the fact that photography wasn't invented until halfway through the 19th century.]
So we hauled out the plate camera, jumped in the time machine and:
before he knew it, Robert was his father's brother.
Then he said as how he'd heard there was a lot of travesty going on, in the theatrical circles of West London, in the seventeen hundreds and he always fancied dressing as a woman. Sooo…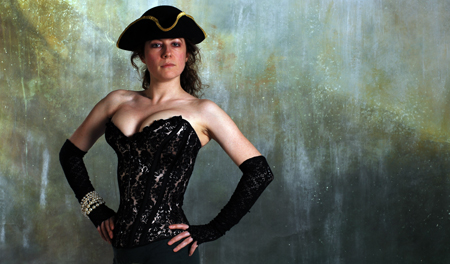 All in a day's work here at the Bankfield Bureau of Investigation and Theatrical Agency.
Thanks to Katrin for the stubble, Martin for the hat and Rebecca for the breasts, I provided the socks.
Posted by john at 10:52 AM | Comments (0)
June 13, 2008
One more from the second roll of film

[cropped]
Posted by john at 05:02 PM | Comments (0)
June 12, 2008
Fun and games in Rio de Janeiro
Hooray! It turns out my film POSSIBLE DANCER has been selected for dança em foco in Rio de Janerio.
Music by the wonderful, though sadly no longer, FortDax

Posted by john at 08:55 AM | Comments (0)
June 11, 2008
er...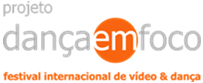 "Thank you for your application for dança em foco – Festival Internacional de Vídeo & Dança. We have received almost 300 proposals from many countries. Inspite of the high quality of your work was successfully selected and will be shown on our International Videodance Showing in 2008, which will take place from 07 to 24 august at Oi Futuro, Rua Dois de Dezembro, 63/4º andar – Flamengo – Rio de Janeiro."
Posted by john at 04:26 PM | Comments (2)
Life imitates art
Well not really, in this case, life merely illustrates the halves rule of heads:
thanks Emily
Posted by john at 01:29 PM | Comments (0)
June 09, 2008
Not Fibonacci
Lots of things follow Fibonacci's famous series of numbers

Pineapples, snail shells and sunflower heads to name but three. But sadly [perhaps] the human face doesn't. It follows a much simpler rule of halves.
Take the whole head and half way down are the eyes, half way down again is the nose, then half the remaining space and there's the mouth.
When children draw faces they concentrate on the important bits, the eyes and the mouth and they put the eyes in the middle.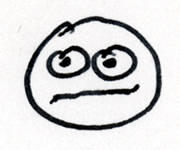 A Fibonacci head isn't far off, and indeed it looks ok if a little cartoon like. We're comfortable with this head because it's seems more like we think our heads looks: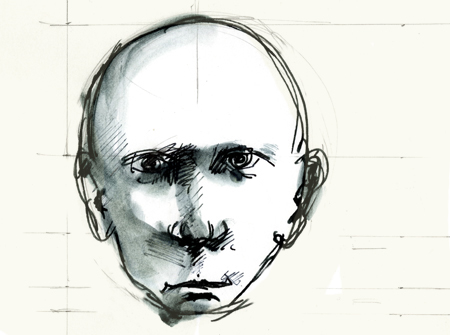 But in fact, when Push comes to shove and the dividers are out, we're more like this:


Sitting at the desk, fiddling with pen and paper, whilst mulling over Matters of Great Importance, I draw scratchy heads and find, on close inspection, that they follow the rule of halves, which is reassuring in a way.
Posted by john at 10:20 PM | Comments (0)
saturday morning in the cafe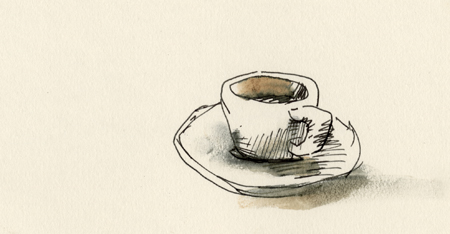 Posted by john at 09:52 AM | Comments (3)
June 07, 2008
ripe fruit
Down by the river the Umbrella Tree is coming into its own.
Posted by john at 05:56 PM | Comments (0)
June 06, 2008
Diversion
a discarded diversion sign, on some waste ground, at the back of the West Yorkshire Playhouse, Leeds.
Posted by john at 10:33 PM | Comments (1)
Notorious
Another photograph of the Count Orlinski. Taken in Sarajevo, on 28th June 1914.
Posted by john at 02:50 AM | Comments (1)
June 04, 2008
Coincidence?
Here's another old photo: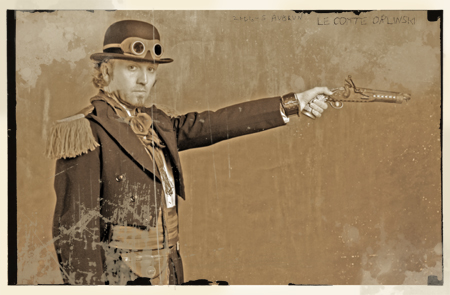 I took this on the afternoon of Friday, 14th April, 1865, just before the Count Orlinski [pictured] went to see a performance of "Our American Cousin" at Ford's Theatre, Washington DC. [honest]
Posted by john at 02:12 PM | Comments (0)
June 03, 2008
Tea or insurrection
When someone comes round we generally offer them a drink*. This must date back to those primordial times when we were wandering about on the arid plains of central Africa wondering whether it had been a good idea to come down from the trees.
Today it serves another purpose, it defines the visit. It's great when someone comes round for something and it's especially great when someone just calls in.
But the latter instance that can be awkward, without a purpose for your visit, things can get a bit edgy at the outset. Making a cup of tea takes time. Drinking a cup of tea takes time. So once you've arrived and accepted the hospitality of a beverage your visit has both a purpose and an end point, which can be extended, if the going is good, with: another cup of tea?.
This was taken to extremes in 17th century Japan. Tokugawa Ieyasu was a clever man, he was also Shogun in a troubled time.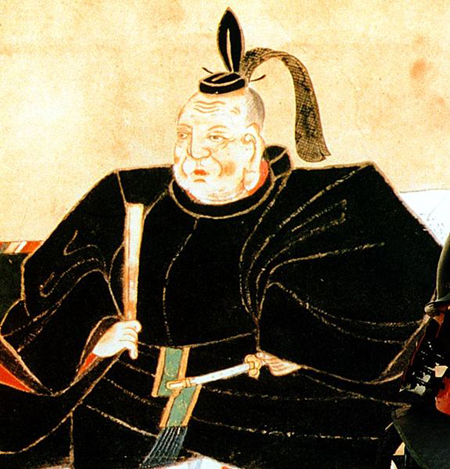 Tokugawa Ieyasu
To prevent the opposing War Lords from attacking his seat of government in Edo, he "invited" the wives and daughters of his enemies to stay with him in his castle.
Now, as there was no television, the good ladies had to find something to occupy their time. They would call on each other in their respective apartments around the castle. The first few visits must have been extremely awkward, Japanese society was very formal and didn't readily embrace the idea of dropping in for a chat.
So they made tea. But then, when they had drunk the tea, they felt obliged to leave and go back to sitting in solitary silence in their own particular corner of the castle.
So they made making the tea last a bit longer, and a bit longer, until, before you knew it, they'd got the Japanese Tea Ceremony, which, given a good chance, and plenty of hot water, could go on all day.

*and if it's Paula – a biscuit, obviously
Posted by john at 12:33 PM | Comments (1)
June 02, 2008
Talent, purpose and priority
Sitting in the café, having a spot of lunch, with my friend Mr Jones, we discussed the nature of the world and its curious ways. Which led us to muse over talent, purpose and priority – working out what you're good at and doing it. This in turn led to the fact that people are generally best at doing what they've been doing for a long time.
He asked me when I first started taking photographs and I realised I've been taking photographs pretty well continuously since I was 16. Hmmm…
I got back from town, dug out some boxes, looked through lots of old manila envelopes and found a stash of negatives and contact prints from those early years.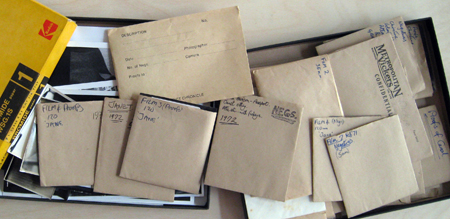 I took my first photographs using Ilford or Kodak 120 roll film in an old Voigtlander plate camera. I had no dark room as such, but I had a developing tank and once I had processed the negatives, with the aid of various noxious chemicals, I made prints at night in the attic using a contact frame and a light bulb. These pictures are only 90mm x 64mm.

my first photograph [I put the negative in the contact frame the wrong way up]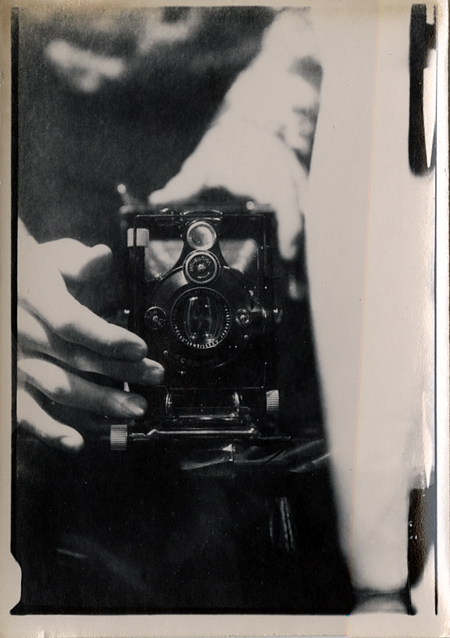 a rare photograph of me taking my second photograph
It wasn't long before my interest in still life waned, it has to be said, and I began taking pictures of people. Well, okay, girls. Which, if you've been paying attention, is what I'm still doing.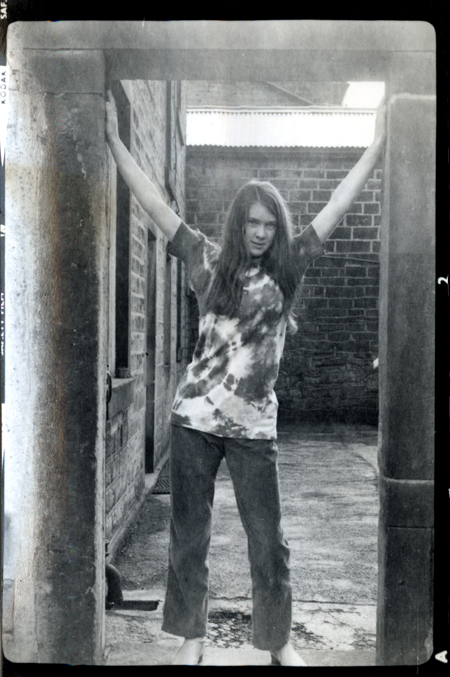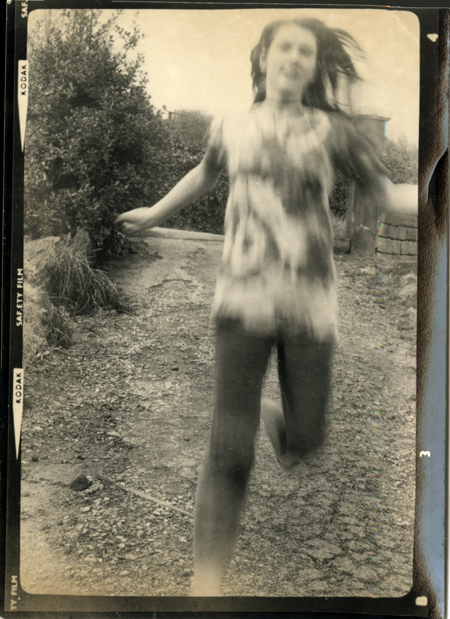 thanks to, Jane Batty, my first model
Posted by john at 10:47 PM | Comments (0)
June 01, 2008
today's ink and coffee
Posted by john at 10:15 PM | Comments (0)
In anticipation of talking
After the drawers there are the sketch* books. I've got one or two, in piles, gathering dust, on shelves around the studio.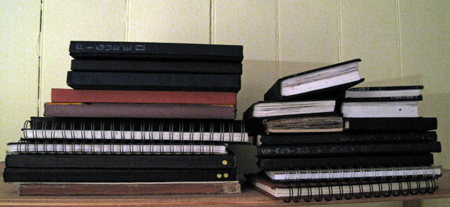 Mostly I draw in books to work out ideas, sometimes, in the more classic sense, I draw things I see around me. Here are some pages from various books at various times.

thinking of dancers in a big shed near Halifax, 1998

not sure what was going on here, 2001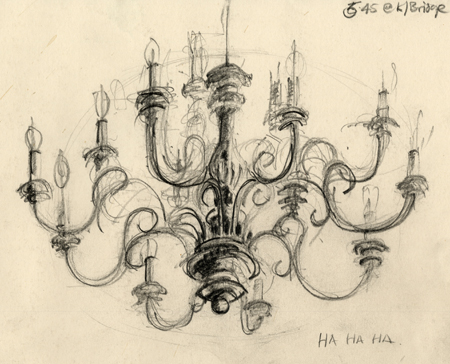 in the Barrel House Cafe, Totnes, 2002

sitting thinking, by a pool, in the South of France, 2003
*I don't like the word 'sketch', it has too many connotations of laziness and the throw away gesture. It sounds far too slap-dash. Drawing is a more positive thing altogether.
Posted by john at 12:27 AM | Comments (0)