ę February 2009 | Main | April 2009 Ľ
March 31, 2009
Oh, OK, another one then
Miley Cyrus
Britney Spears
David Beckham
JK Rowling
Jade Goody
Jessica Alba
Lindsay Lohan
Angelina Jolie
Brad Pitt
Heath Ledger
Paris Hilton
World Wrestling
Posted by john at 10:37 PM | Comments (5)
OK the last one for a while - what, specifically, connects these?
sausage & black pudding
bacon, beans & toast
egg & toast
bacon & tomato
toast, egg & mushroom
toast, black pudding & egg
bacon, beans, tomato, egg
egg, mushroom & toast
bacon, black pudding & egg
sausage, beans & mushroom
toast, egg & beans
sausage, egg, black pudding
black pudding & beans
bacon,black pudding & tomato
Posted by john at 07:57 AM | Comments (7)
March 30, 2009
FrŁhlingssonne durch die Geranien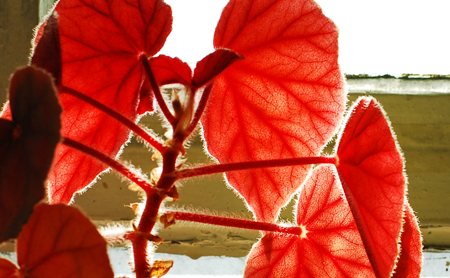 Posted by john at 06:42 PM | Comments (3)
March 29, 2009
latest list of connections
batter
machicolation
baldacchino
gadroon
acroterion
console
entasis
festoon
Posted by john at 10:17 AM | Comments (4)
March 27, 2009
Meanwhile out in the far-flung regions of deep space
In March 2004, from a launch site in French Guiana, on board an Ariane 5G rocket, the European Space Agency hurled a spacecraft into Ė well Ė space [which, if weíre honest, is as good a place as any to hurl a spacecraft]. There to start itís 12 year mission to boldly go where no spacecraft has gone before, to explore strange new civilisations comets, and generally find out everything it can about a lump of dirty ice whizzing about the Universe.

Spacecraft Rosetta, Photo: ESA.
Rosetta*, for this is the name of the spacecraft, is chasing a comet. The sort of thing our ancestors could only dream about. And not just any passing comet, but comet 67/P. Or, as itís more properly known: comet 67/P Churyumov-Gerasimenko**.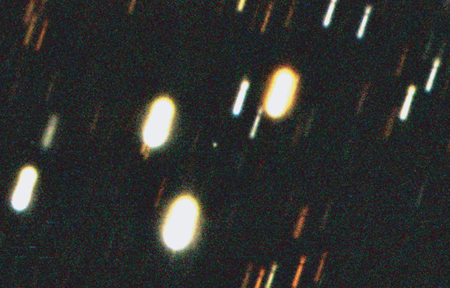 Comet 67/ P Churyumov-Gerasimenko [the white dot in the middle]
Now why are the ESA spending umpty-millions flinging a few low-gas spectrometers, sub-surface probes and residual dust monitors into deep space? Well apparently this will give us the low-down on how the universe came into existence. Comets, we are led to believe, are the last remnants of the first few chaotic moments of this celestial palace weíre currently camping in.
Rosetta is, as I type, whipping itself around twixt Mars and Earth in a series of romantic gravity-assisted manoeuvres with a view to gaining enough momentum to sling-shot itself out into deep space to meet up, 4 years later, with comet 67P, some 1000 million kilometres from Earth. When itís there [1000,000,000 kilometres away] it will brake, to slow down, then reverse into position next to the comet Ė this is parallel parking on a Galactic scale.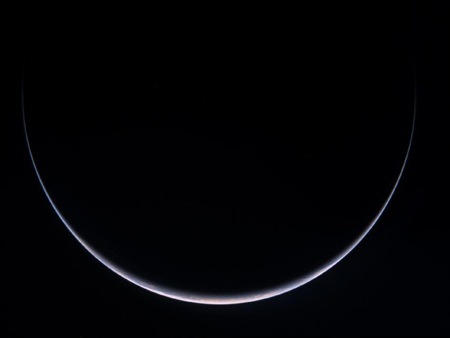 The Optical Spectroscopic and Infrared Remote Imaging System (OSIRIS) camera on board Rosetta observed Earth during its swing-by last November. Photo: ESA.


Earth - detail. Photo: ESA.
Find out more about Rosetta here
*named after the Rosetta Stone, a stone found near Rosetta in Egypt, in 1799. You see how it all comes together? This stone had an inscription carved on it in two languages. One was Greek the other was Egyptian hieroglyphics. So we were able to do a Dan Brown and crack the code of the Pharaohsí hippy writing.
** In 1969 Klim Ivanovich Churyumov was looking at a picture taken by Svetlana Gerasimenko of comet 32/P and he noticed another cometary object in the corner of the photograph. As this was the sixty-seventh such cometary object to be discovered, it received that number, and as it was determined to be periodic, it received the suffix P. Such is the heady stuff of cometary nomenclature.
Posted by john at 09:37 AM | Comments (1)
March 26, 2009
another one, what connects these words...
up
down
strange
bottom
top
charm
Posted by john at 09:58 AM | Comments (2)
March 25, 2009
schneeblumen
it's snowing in Bavaria.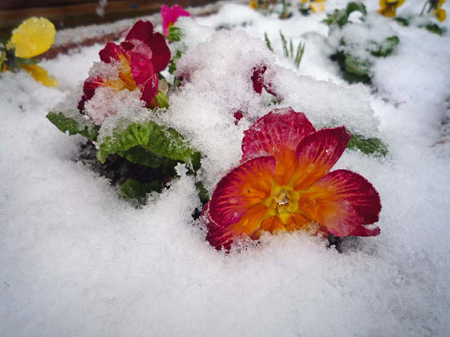 photo: Katrin Freitag
Posted by john at 07:19 PM | Comments (1)
THE TRAIN NOT STANDING AT PLATFORM 7
I can imagine the announcement at London Bridge station:
"WE APOLOGIZE FOR THE NON-ARRIVAL OF TRAINS FROM DOVER - THIS IS DUE TO A TEMPORAL PARADOX AT MAIDSTONE"
Posted by john at 05:09 PM | Comments (0)
Notices I saw when I didnít have my camera, No.3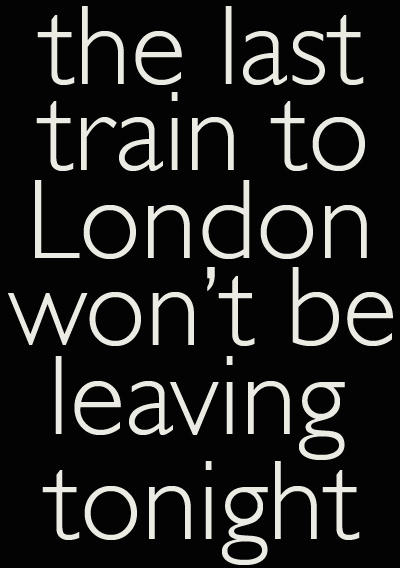 written on a board on the westbound platform of Maidstone station, March 1988

Posted by john at 08:54 AM | Comments (0)
March 24, 2009
FrŁhlingssonnenschein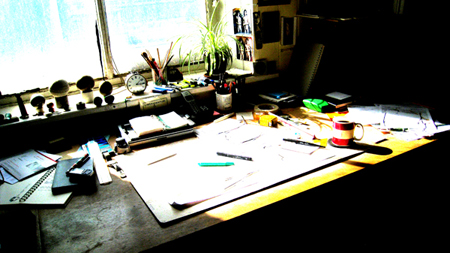 Posted by john at 11:58 AM | Comments (0)
today's mystery list: what and, for a bonus point, who connects these
beenderzwart
gele oker
kasselse aarde
loodtin geel
looduit
ombergebrande
omber rouwe
rode lak
smalt
Posted by john at 09:45 AM | Comments (6)
March 23, 2009
a box of contents
a parcel arrived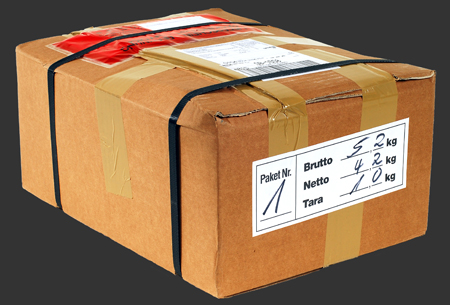 itís always exciting when a parcel arrives
even if the parcel isnít for you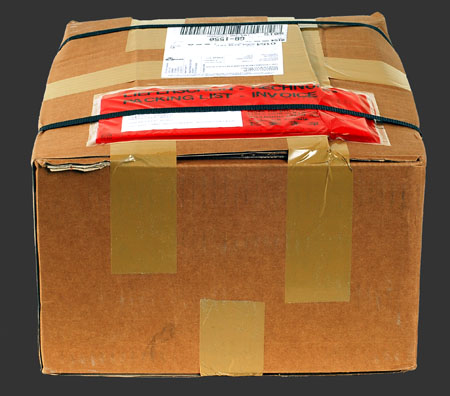 the mysteries of the parcel are everything
the parcel contains all known things
and a few surprises
390mm x 300mm x 185mm
4.8kg
it makes no noise
doesnít rattle
and doesnít smell
and I watched it for a while
and it didnít move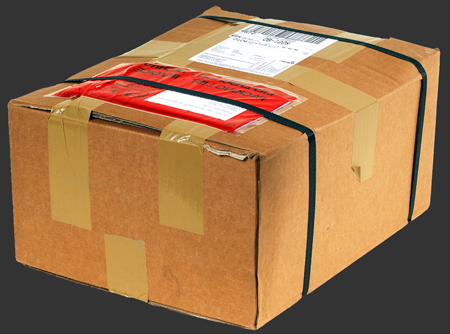 itís great
a box of contents
Posted by john at 11:19 PM | Comments (0)
try these

digitate
obtuse
elliptic
falcate
acicular
lanceolate
cuneate
flabelate
opposite
whorled
spatulate
Posted by john at 10:23 AM | Comments (7)
March 22, 2009
ok what about these
winding
pillar
cage
wheel
fusee
escape
pallet
barrel
balance
going
Posted by john at 08:24 PM | Comments (3)
what do these have in common?
toffee
warrington
pin
sledge
dead
wedge
club
claw
cross-wedge
scutch
twist
dog-head
rip
crease
Posted by john at 01:34 PM | Comments (1)
March 21, 2009
another day dawns
sunrise at bankfield mill
blossom on the wind
spring is in the air
Posted by john at 09:06 AM | Comments (0)
March 19, 2009
The Last Days of Sculpture
Today I worked on an uninstallation piece
this: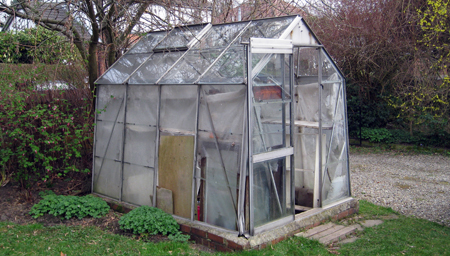 Greenhouse, 2640mm x 2000mm x 2100mm, glass, aluminium, plastic, wood, brick
was uninstalled
and became
this: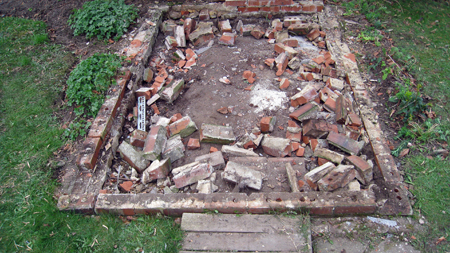 ex-greenhouse, 2640mm x 2000mm, brick, concrete, soil, various bits of metal
The first piece will soon be on show at the Freedom Sculpture Garden, Grange Moor.
Posted by john at 10:03 PM | Comments (0)
March 18, 2009
some sepia torsos
Archiving the files for the Trapezius film, [which involved a lot of naked, twisting, torsos, if you remember] in the reference file, are some of my earlier naked torsos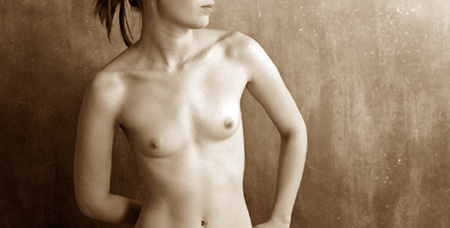 Helen, digital image 2005

Emily, digital image 2006

Ros digital image 2007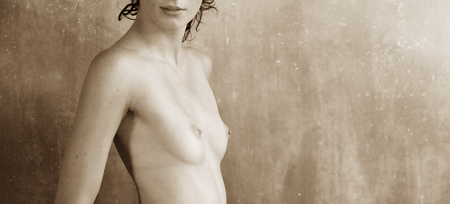 Abi, digital image 2006
Posted by john at 01:37 PM | Comments (0)
March 17, 2009
Three Degrees of Reality
Just finished the first chair film.
Well I finished it a while ago,
but I've been trying to get it to play out full-screen on Vimeo
[with no success]
so here it is letterboxed
Grrrrrrrrr...
This the first in the White Chair triology.
The second, which I did last year, being:
Posted by john at 02:27 PM | Comments (0)
March 16, 2009
Palimpsest at Lidl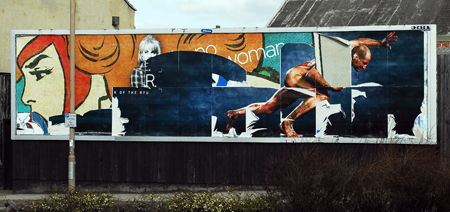 Posted by john at 10:59 PM | Comments (0)
March 15, 2009
An assumed order
I like stripes. But youíve got to be careful with stripes. Itís easy to go too far with stripes.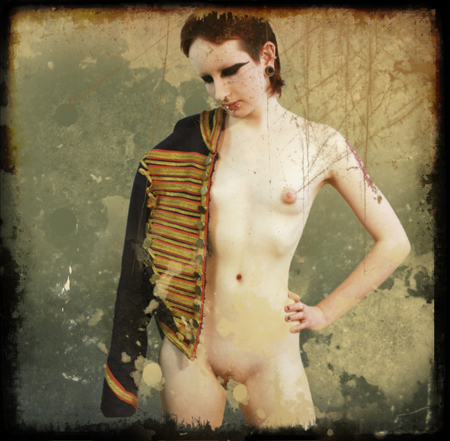 The Naked Hussar, digital photograph
The body is infinite in its variety, unlike stripes which, by definition, tend to hold the same pattern. Tedium is only ever a step away with stripes.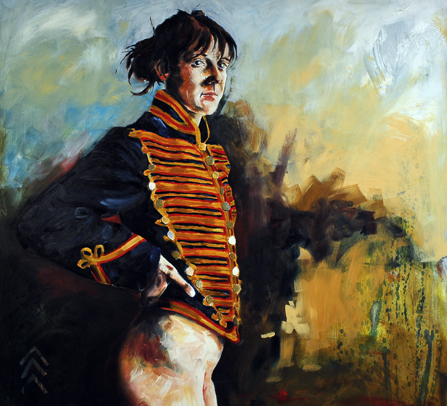 Jo and the jacket, oil on panel, 1060mm x 1060mm
The Hussarís jacket, with its regimented, intricate, frogging, is a good way to get stripes involved. Due to the process and the fabrics concerned thereís a degree of randomness within the order. They are to a certain extent organic.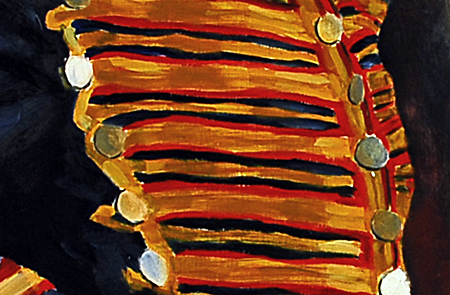 Jo and the jacket, detail
To capture this in paint is difficult, it really makes you look, which is a Good Thing in itself. You have to paint stripes the same way you would paint a belly. Itís no good just mixing up a red and a yellow to lay down next to each other. You have to treat each part separately, depending on the light, whilst still maintaining a sense of the whole.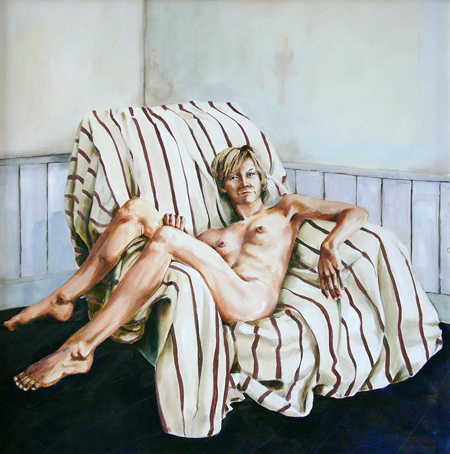 Helen on the big armchair, oil on panel 1060mm x 1060mm
Stripes are useful for their implied order. We can make easy assumptions about the form when the stripes become distorted.
Posted by john at 01:13 AM | Comments (1)
March 12, 2009
Opening of JW Middlebrooke's lecture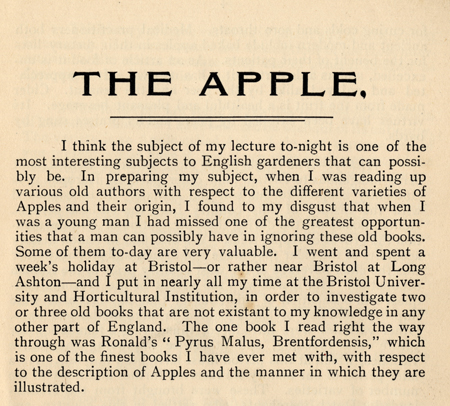 Posted by john at 05:56 PM | Comments (1)
the men who used the tools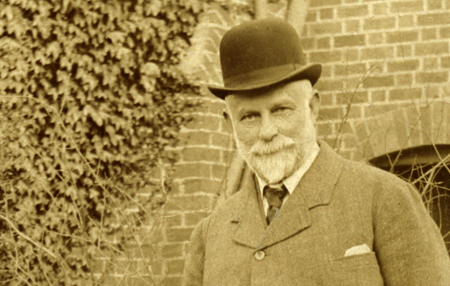 Great Grandfather JW Middlebrooke

transcript of one of his lectures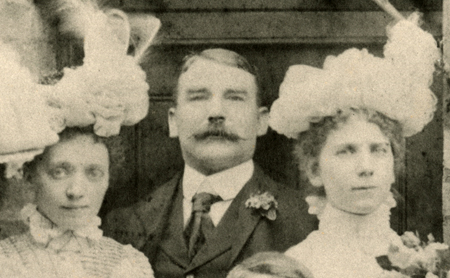 Great Uncle George

George's chisel
Posted by john at 01:03 AM | Comments (1)
March 11, 2009
more tools, different trades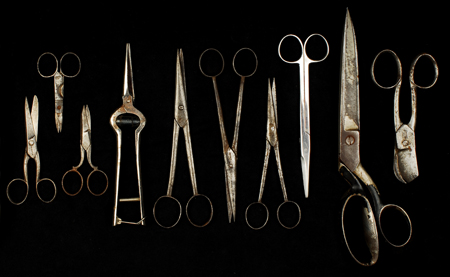 some pruning scissors and other scissors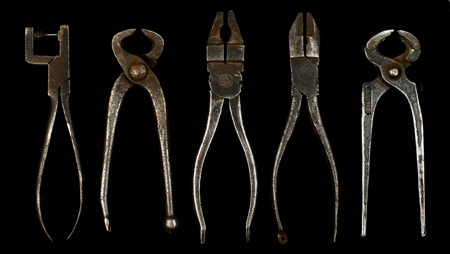 pliers, pincers and such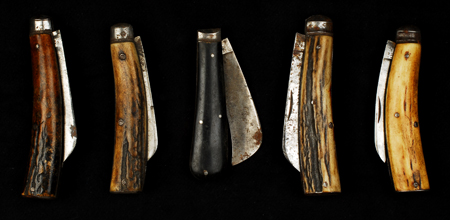 pruning knives - my great grandfather was a horticulturalist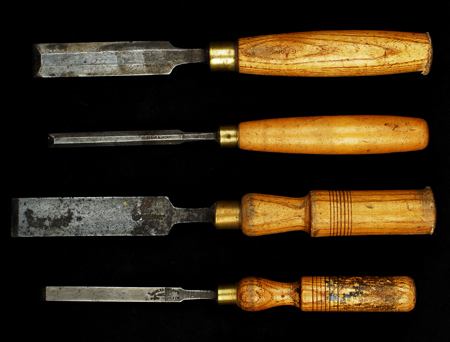 my great-uncle was a cabinet maker
Posted by john at 10:32 PM | Comments (0)
Tools of the trade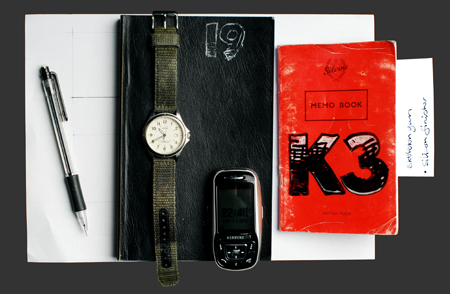 Posted by john at 04:45 PM | Comments (0)
March 10, 2009
Back to the Ballet
Back to ballet for a moment. Back to a time of more classical drawings and paintings.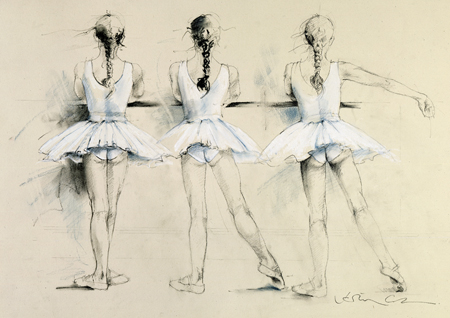 Kim at the barre, charcoal and pastel on paper
Should anyone be interested in buying a print of one [or indeed several] of my ballet drawings they could do worse than visit The Poetry Cafe. This drawing isn't in the shop yet - but it will be soon. Oh, and there are cards for sale there too, if you want. Damn! I'm a good salesman.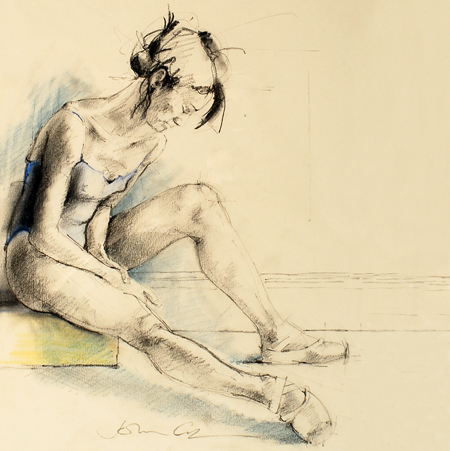 Abi, in a blue leotard, charoal and pastel on paper
Abigail was a soloist at the Northern Ballet Theatre. You can bid for this drawing at the Art Auction [in aid of the Holmfirth Arts Festival] on 30th April in the Huntsman Inn, above Holmfirth
Or, if you're made keen on getting your hands on a print as soon as possible, you can go to Winnie's shop on Daisy Lane, Holmfiirth, where this framed print of Chiaki's tutu is for sale.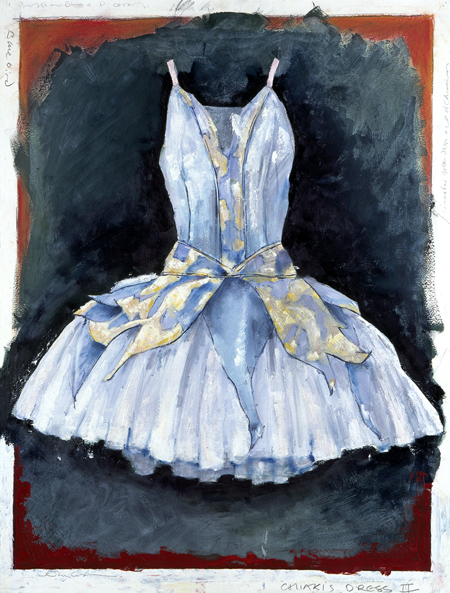 Chiaki's tutu II, oil on board
now don't all rush at once
Posted by john at 04:56 PM | Comments (1)
March 09, 2009
Trouble on the Bridge of the Pubic Symphysis
Also known, somewhat romantically, as the Mound of Venus or more mundanely the Pubic Arch, there are many vulgar terms for the Bridge of Pubic Symphysis which, not being one for euphemisms, I wonít go into here.

Mons Pubis
[symphysis, by the way, is a point where two bones come together and, almost but not quite, fuse into one.]
Regular readers of this column will be aware of my work with the human figure and the female form in particular. You might also have notice that I donít depict pubic hair in my paintings or photographs. As a result Iíve been accused of all manner of perversions. Which is rather unfair, IĎve always thought, as pubic hair has played no part in the History of Art.
In the sixties and seventies it was neither popular nor fashionable to be without pubic hair, but these days everybodyís shaving - boys and girls Ė as the eagled eyes reader will have noticed from the previous post.
But Art, in all its forms, has continually omitted to demonstrate pubic hair, particularly on the female of the species. Ancient Greek statues donít have any. The Great Masters didnít paint it on their nudes. Admittedly they didnít go into any great, graphic detail either.
Somewhat ironically [considering the previous post] scholarly thought has it that Goyaís La Maja desnuda is the first painting to depict pubic hair.

La Maja desnuda [detail], Francisco de Goya
Though in all fairness it would seem that Lucas Cranach the Elder was wonít flirt with the odd wisp of pubic hair in the sixteenth century.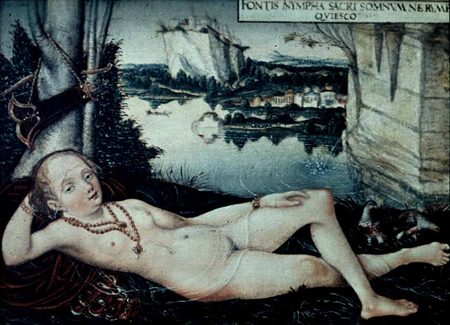 Water Nymph resting, Lucas Cranach the Elder 1536
This almost total lack of the pubic thatch in art has had sorry repercussions. On his wedding night, Ruskin, a connoisseur of fine art who had spent many years studying the Great Masters, was frightened out of his wits by his new wife. Sadly Effie Gray had neglected to shave off her pubic hair - in line with classical statuary - and the sight of her hairy vulva so repulsed Ruskin that he left the marital bed never to return.
"It may be thought strange that I could abstain from a woman who to most people was so attractive. But though her face was beautiful, her person was not formed to excite passion. On the contrary, there were certain circumstances in her person which completely checked it." Ruskin speaking to his lawyer.
Effie was later to marry John Everett Millais, who was clearly not put off by hirsute pudenda as they has eight children.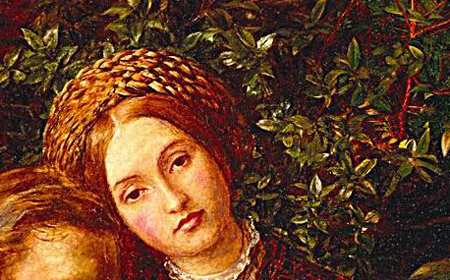 Effie Grey, detail from Peace concluded, 1856, by John Everett Millais
Posted by john at 09:02 PM | Comments (1)
March 08, 2009
Our very naked selves
Under all the fabrics of disguise, that tissue of lies that surrounds us and serves to preserve some sense of social modesty whilst simultaneously conforming to various stereotypes, we are all naked. Naked as the day we were born.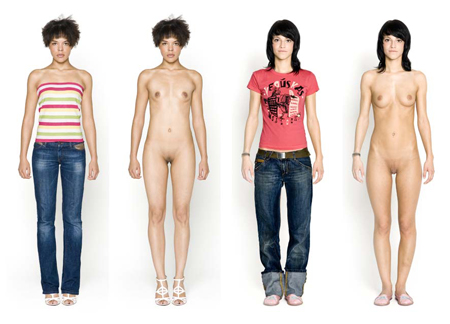 Aileen & Aisha
German photographer Sebastian Kempa has a project where he photographs people both naked and clothed. Though there is a neat trick on the project website.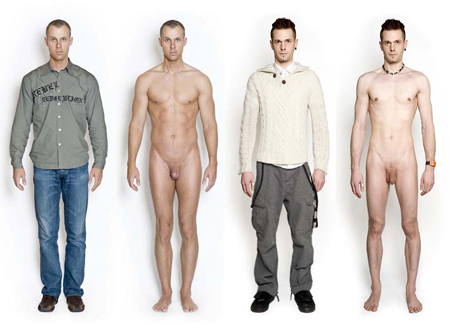 H & Ansgar
This isnít a new idea. One of its first photographic proponents was Greg Friedler, who photographed New Yorkers clothed then naked, in 1997.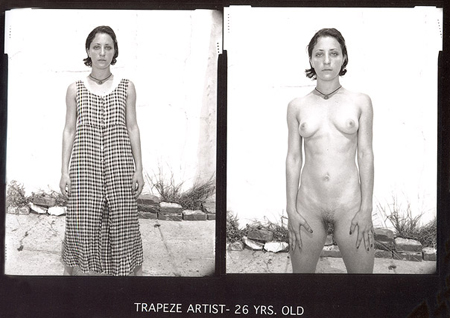 Naked New York, Greg Friedler
He followed this with Naked London and Naked LA.

Naked LA, Greg Friedler
But before photography came dancing into all our lives, Francisco de Goya was there. He painted a clothed and naked painting, or rather two paintings, between 1797 and 1805.

La Maja vestida

La Maja desnuda
Itís said that the first owner of the pair, one Manuel de Godoy, hung both pictures together, the one in front of the other, the clothed in front of the naked and the latter could be revealed by an intricate system of weights and pulleys.
Today they hang side-by-side in the Prado, Madrid.
Posted by john at 08:46 PM | Comments (3)
March 07, 2009
Dance for Camera
Trying to get all three dance films on to one DVD, but as the first film, dusttodust, was originally shot in 4:3, it ain't that easy. Deeply embedded codes throw the screen aspect ratios all over the place, so I've had to put them on two DVD's. Well never mind they still fit in the one case.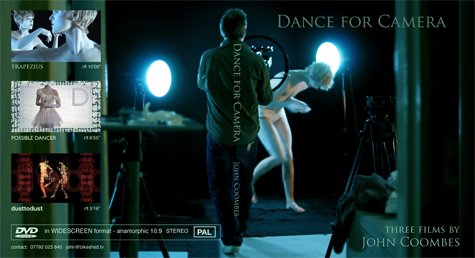 Posted by john at 10:10 AM | Comments (0)
March 06, 2009
check out the future

World Builder from Bruce Branit on Vimeo.
a short film by Bruce Branit, one day to shoot, two years in post-production.
Posted by john at 08:34 AM | Comments (1)
March 05, 2009
When you next go to buy a train
If you had to buy a train, you know Ė had to, what would be your train of choice?
All that steam stuff if great and romantic but very complicated, what with watching all the valves, maintaining pressure and blowing down to reduce priming. Not to mention constantly stopping for water and coal. So give me a good diesel locomotive if itís tons you need shifting.
And what better than a Class 55 ďDelticĒ
In 1943 the Admiralty was looking for a high-powered diesel engine to replace the petrol engines used in their fast lightweight motor-torpedo boats. [Petrol was generally considered too flammable to have onboard boats when other boats were wont to fire at them]. In 1946 they commissioned D. Napier and Son of London to develop a diesel engine with a high power to weight ratio. They came up with the Deltic, an 18 cylinder opposed-piston engine.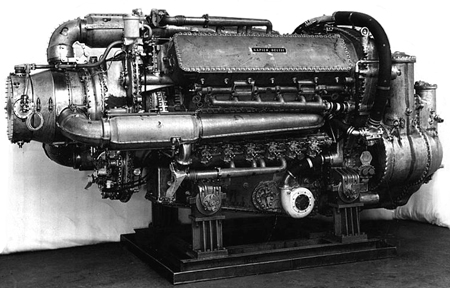 Napierís Deltic engine
There were three pistons working in opposition, the trick being that the third crankshaft rotated contrary to the other two.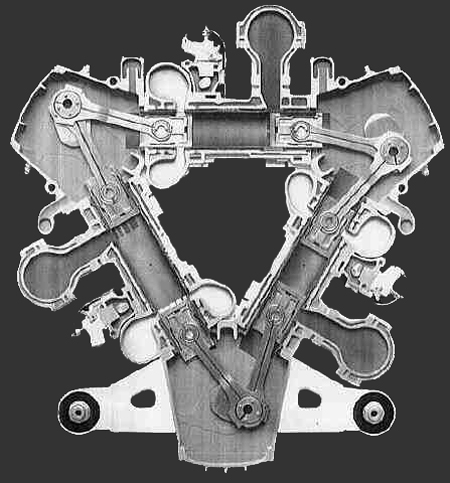 This crankshaft phasing enabled the cylinder gas flow to operate in one direction, with,as you might imagine, the assistance of a bit of supercharging to help the exhaust scavenging.
The engines were so successful that, in 1955, English Electric decided to put two of them in their first prototype diesel locomotive [not unreasonably called the Diesel Prototype No.1]. This locomotive proved a hit, largely due to Napierís superb Deltic engines and it went into production. They originally wanted to call it the Enterprise, so beating Gene Rodenberry by 11 years, but everyone was already calling it the Deltic.
Now why, I hear you cry, understandably, this sudden diversion into the world of tartan bags, Thermos flasks, little notebooks and standing at the end of mainline station platforms?
Well I guess my memory is imprinted. The Deltic was the locomotive of choice for the British Rail East Coast Mainline, and so, in my formative years, this was the power-house at the head of the trains I would catch to London, and itís deep throaty rumble as it powered up before pulling off, echoed through these northern stations and itís stuck in my mind.
The severe lines of the high front and swept back windows seem to make it a much more serious machine than say the Class 40 which also hauled the East Coast Mainline trains.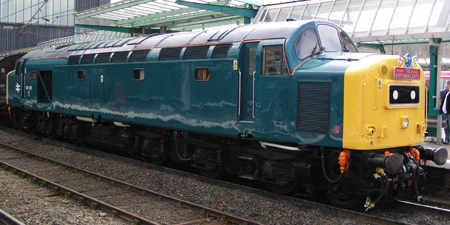 Class 40, built by English Electric at their Vulcan Foundry, between 1958 and 1962, close, but doesn't hold a candle to the mighty Deltic.
When a Class 55 Deltic rolled through the station, hauling seemingly endless rolling-stock stacked with coal or roadstone, the whole platform trembled.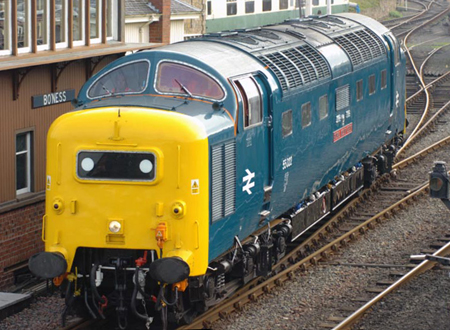 Class 55 Deltic
Posted by john at 12:32 PM | Comments (1)
March 04, 2009
Possibility, Chaos and Certainty
Working with the idea of the White Chair again.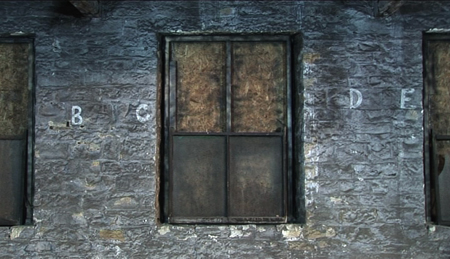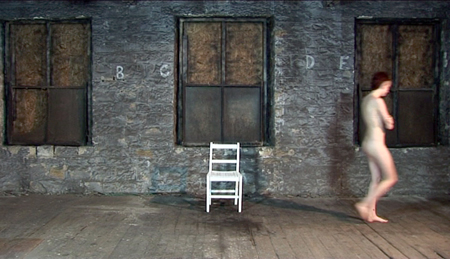 Re-cutting the original chair film.
more on this later....
Posted by john at 01:28 AM | Comments (0)
March 03, 2009
Toys for the boys
Someone comes up with a new invention and it isn't long before people are playing games with it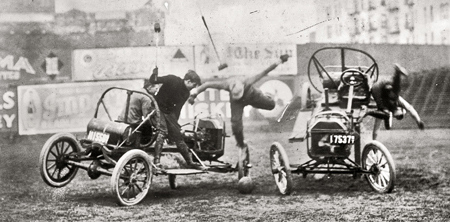 auto-polo, 1912
thanks Shorpy
Posted by john at 08:23 AM | Comments (0)
March 02, 2009
Back in amongst the film bins
Ok, so they donít contain film Ė celluloid, or its latter-day equivalent. But Final Cut still calls them bins, and, like film editing, thatís where you keep the clips of various sequences.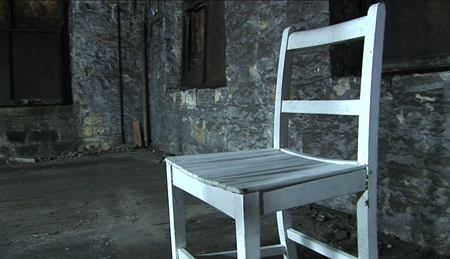 Iím busy wrestling with the software settings to try and get the finished result to come out right. And in the mean time re-cutting the original chair film.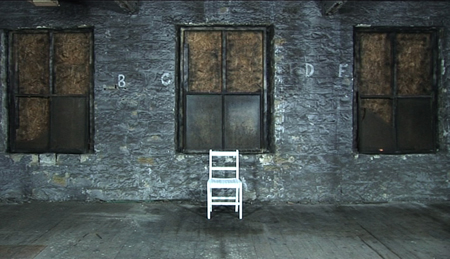 Posted by john at 09:17 PM | Comments (0)
March 01, 2009
The writing's on the wall
Or at least the ink is.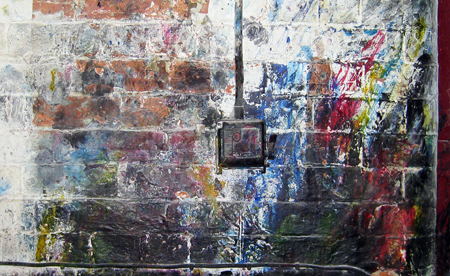 printing ink on the wall of an old printing works
Posted by john at 12:02 PM | Comments (0)