« March 2009 | Main | May 2009 »
April 28, 2009
That old Sopwith...
Posted by john at 04:38 PM | Comments (3)
paper planes
Posted by john at 06:26 AM | Comments (1)
April 27, 2009
what connects these?
santiago
victoria
trinidad
san antonio
concepcion
Posted by john at 05:19 PM | Comments (8)
April 24, 2009
Notice board in York
Posted by john at 09:55 AM | Comments (1)
April 22, 2009
atom grows
The sun shone down once more as we worked on Wayne Markwort's installation piece, at the 20-21 Visual Arts Centre, Scunthorpe, again today.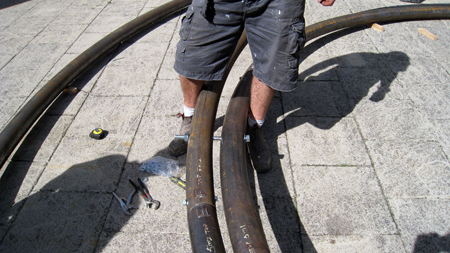 Posted by john at 09:10 PM | Comments (1)
April 20, 2009
Sunshine, Scunthorpe and Sculpture
What a fine day for driving down the M181 with half a ton of rolled mild steel in the back of the van and bolting it together into three giant rings.
Down at the 20-21 Visual Arts Centre, Dave and I were working with Wayne constructing his latest installation piece called Atom.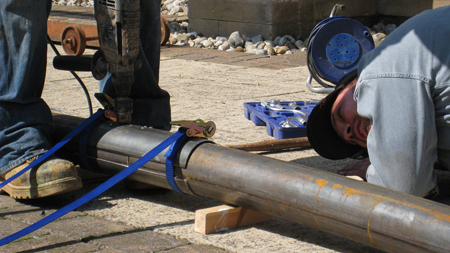 A piece where naked breast-feeding Nature Girl confronts a fusillade of missiles amidst clouds of atomic children... er... or something like that.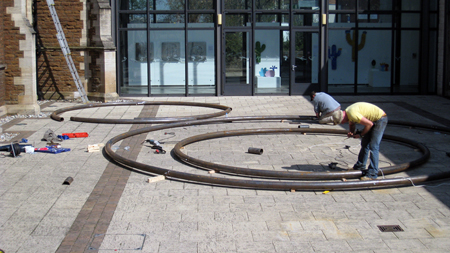 More pictures to come, as the installation grows
Posted by john at 09:39 PM | Comments (0)
April 15, 2009
great minds think alike
though some have better connections
and my version
made for Comic Relief 2007
St Christopher School had worked on the song for a few sessions. In Gjakova we just had a couple of hours to teach the children the song and record it.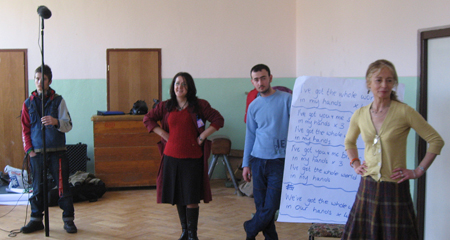 Jane Edwards, Kosovo Youth Education Project Director [right] explains the words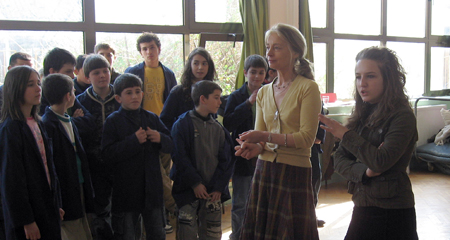 Nertila Qarri translates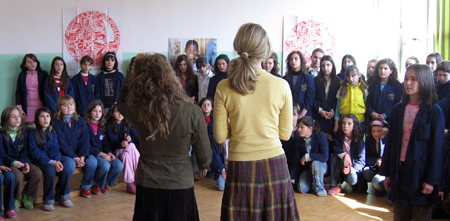 first run through

Nektar Qarri, sound assistant and Gent Kumnova, fixer, discuss the boom operation
Posted by john at 03:54 PM | Comments (1)
and here's what you missed last night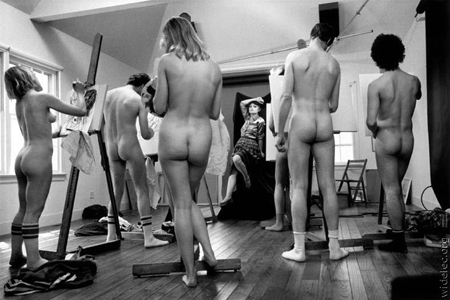 ha ha, hee hee and ho ho ho
Posted by john at 09:19 AM | Comments (0)
April 14, 2009
OK, release the brake...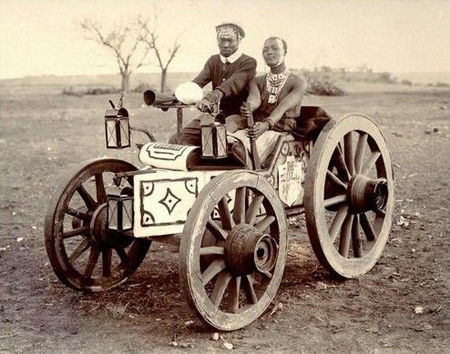 ...we're going to the drawing workshop tonight
Posted by john at 11:09 AM | Comments (0)
April 13, 2009
hummmm...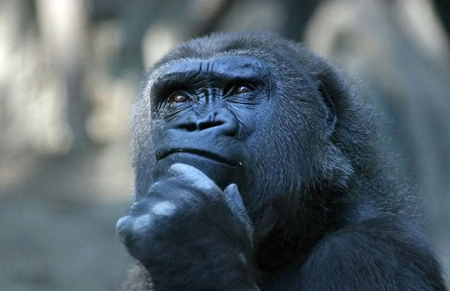 ...what shall I do tomorrow?
I know - I'll go to a drawing workshop.
Posted by john at 02:12 PM | Comments (1)
April 11, 2009
One for the holidays...
gutter
bleed
widow
shadow
dagger
ragged
orphan
Posted by john at 10:18 AM | Comments (2)
April 10, 2009
Ladies and Misses Outer-Apparel Specialists
SCENE: INT. RAINY DAY IN EARLY OCTOBER, SMALL WET CHILD STANDING IN GROWING PUDDLE ON KITCHEN PORCH.
"Oh dear, Honey, just look at the state of you! We'd better get down to Erlebacher's and get you some new outer-apparel."
The side of a building on a street in Washington, DC, sometime around 1918. The UNDERWOOD on the left proclaims that this building houses the offices of Underwood Typewriters. Further down the façade and of equal size is the somewhat puzzling legend:
thanks: Shorpy

Posted by john at 09:21 AM | Comments (1)
April 09, 2009
tricks of the trade
Posted by john at 07:54 AM | Comments (0)
April 08, 2009
Flinging ink about a bit
Shinichi Maruyama gets in amongst the splashy stuff
and takes some pretty impressive photographs:
Posted by john at 09:14 AM | Comments (0)
April 07, 2009
above a shop in York
grand stuff
Posted by john at 01:47 PM | Comments (0)
one more from Edwin Morgan
Posted by john at 08:53 AM | Comments (0)
April 06, 2009
I'm saying nothing
Posted by john at 07:40 AM | Comments (1)
April 05, 2009
all of 4'33" and more
You can buy four minutes and thirty three seconds of silence for £2.37. That's just under a penny a second. John Cage's seminal work 4'33" is on sale in the iTunes store. It comes in three separate movements which each cost £0.79. Mind you if the iTunes track timings are anything to go by you're being sold short – you only get 4'31" of silence.
The proper timings for the Tacet Edition is I: 0'33" II: 2'40" III:1'20" however Cage himself seemed to prefer the timings of the original Kremen Edition: I: 0'30" II: 2'23" III:1'40"
Originally composed for a piano, 1952, the piece instructs the pianist not to play anything, in three movements, for a total duration of 4'33". In January 2004 a full orchestral version was performed in the Barbican Centre, London, by the BBC Symphony Orchestra, conducted by Laurence Foster. It broadcast live on BBC Radio 3 and was simultaneously televised on BBC 4. Radio 3 engineers had to bypass their automatic systems that detect a silence, if for instance a programme has dropped off air.
Posted by john at 10:13 AM | Comments (2)
April 04, 2009
Information technology
It's always been useful to know what's going on, which way the buffalo were roaming and what time the next bus was coming to take us there. We've been gathering information ever since we came down from the trees. Indeed I bet we knew a thing or two about leaves before that eventful day we decided to descend.
Over the years we've adopted many ways to enhance our senses, with a view to gathering more of this precious information. The grinding of good quality glass into shapes that bend light brought distant images into view and soon the search was on for a similar breakthrough in sound…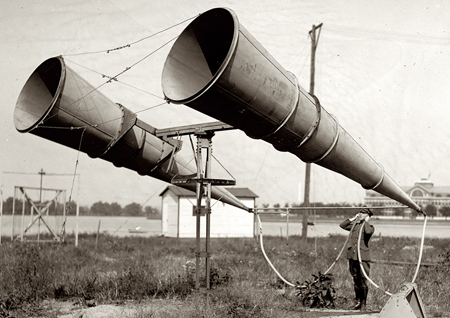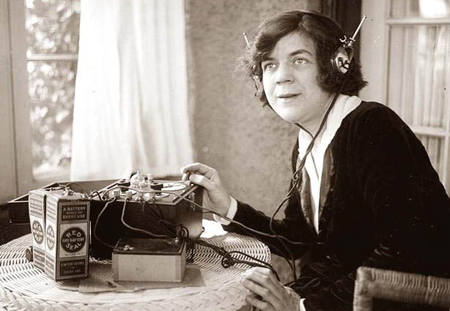 ...with differing degrees of success I suspect.
Posted by john at 09:10 AM | Comments (0)
April 03, 2009
Q W E R T Y
Apart from the fact that relatively unskilled typewriter salesmen could type the word 'typewriter' using the top line only, the keyboard your present interlocutor is tapping to create this missive is mixed up the way it is – vis à vis: QWERTY, is to confuse and so slow down typists in the Olden Daze. Thus preventing a traffic jam at the printing point from a build-up of the individual character arms, that flew about with such vim on those old lever-action typewriters.
And now of course it's too late to change.
Posted by john at 08:29 AM | Comments (0)
April 02, 2009
Great minds think alike, well sort of...

Odalisque, 1874, Jules Joseph Lefebvre, oil on canvas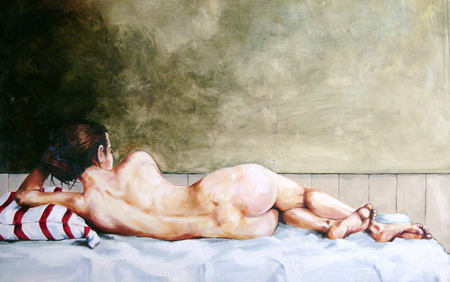 reclining nude, red white cushion, 2004, JC, oil on panel
When I painted this I wasn't aware of Lefebvre's Odalisque. I may have seen it in the past - there are a great many reclining figures like this, it's a classic pose.
Posted by john at 11:14 AM | Comments (0)
April 01, 2009
all I can say is: No.5 is in for a helluva shock when the gun goes off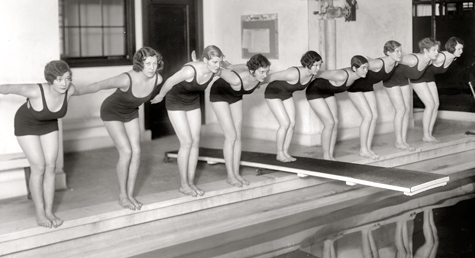 thanks: Shorpy
Posted by john at 07:58 AM | Comments (0)