« January 2010 | Main | March 2010 »
February 28, 2010
The House of McFugger
In those days of rubble and brick dust one man stood out.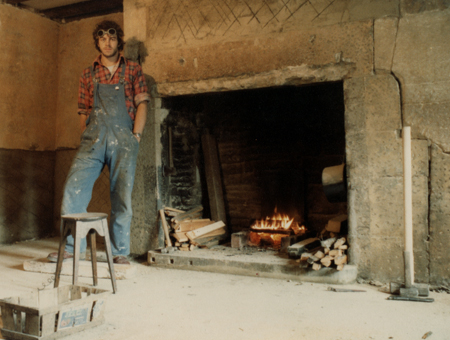 That man was McFugger.

Posted by john at 10:24 AM | Comments (1)
February 27, 2010
Pioneers of House Renovation
Back in the early 80s, when the property boom was at its height and renovation-fever gripped the land, men would come from Far and Wide to seek their fortunes amongst the cracked plaster, dark dusty beams and wet floors of long abandoned dwellings.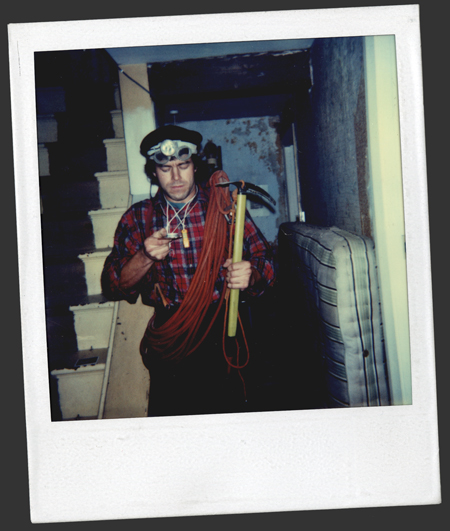 Rough shanty towns would spring up alongside rows of derelict cottages and rough men with rough hands would drink hard liquor long into the night in a vain attempt to wash the choking soot and dust of another lath and horsehair-plaster ceiling from their rasping throats.
Posted by john at 08:35 AM | Comments (0)
February 25, 2010
Pioneers of Photography part II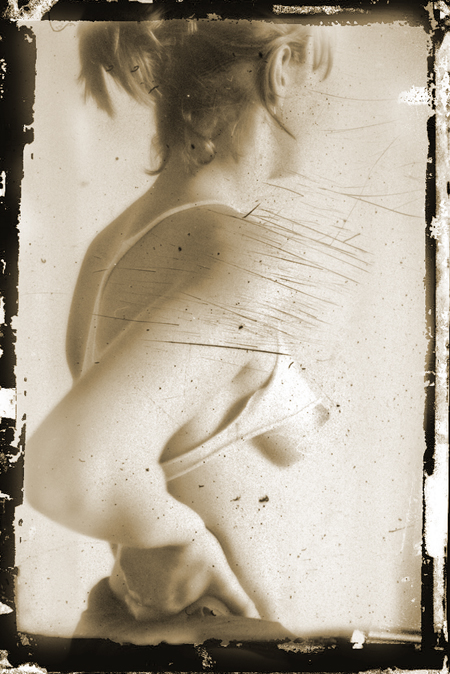 an early Coombesyotype
Posted by john at 06:25 PM | Comments (0)
February 24, 2010
Pioneers of Photography part I
They were heady days, holed up in a dusty Parisienne loft above the Boulevard du Temple, with Daguerre, inhaling the strong cocktail of chemicals we used to make our images come to life. Days when exposures were measured in hours not fractions of a second.
First we experimented with jam spread on tinfoil, but these early jamtypes produced little by way of a result. We tried marmalade and honey in various consistencies with no success and the camera got in a frightful state.
Moving from the larder to the cupboard under the sink we used bleach and washing up liquid on a chopping board and were amazed by a crude, dark, outline of a cat that appeared on the surface after a few days. But we subsequently discovered that the grubby boy next-door, who comes in to fix the leaking chimney, had drawn it with his sooty finger.
My late grandmother was a stickler for cleanliness and she would polish the tea things until they shone. Her silver tea-tray was no exception and it was now to this that we turned for a flat surface to further our experiments.
Though it reflected our faces perfectly, we just couldn't capture the image. Shining a torch on the tray with a variety of Quality Street wrappers in front of the lens proved fruitless and in a rare outburst of rage Daguerre threw the torch at me. It caught me only a glancing blow on the forehead, but sufficient to draw blood. As soon as Louis saw this he fell to remorse and fumbled about in the medicine cabinet for some Tincture of Iodine to dress my, albeit minor, blessure.
Leaving the Iodine bottle standing open, the better to tend my abrasion, Louis suddenly froze. I looked at him quizzically and gaining no recognition, followed his gaze. My eyes fell to the tray propped up behind the open bottle, a shaft of light, bent through the window pane, glanced upon it and there, before our startled faces, a faint image was forming.
The winter of 1835 was bitter and our draughty loft afforded scant defence against the cold. We soldiered on, in woollen mittens and thick scarves, frustrated by the faintness of the images we were producing and searching for a way to increase the contrast. Soot, burnt toast, boot polish, all served only to destroy the fragile image.
Daguerre came down with the influenza and in a fevered state broke his thermometer on the stove. The spilt mercury danced and hissed on the hot-plate above which we were drying a recently exposed traytype.
Imagine our surprise when, as the mercury vapour rose from the stove, the image on the tray began to darken and Louis whispered under his breath – "Daguerreotype".

Boulevard du Temple, an early Daguerreotype
Posted by john at 10:38 AM | Comments (0)
February 23, 2010
something to do with physics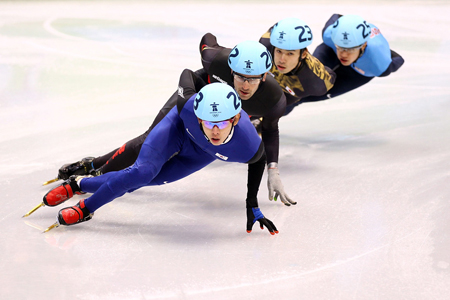 Short Track Speed Skating Men's 1,000 meter
photo: Alex Livesey
mind you not quite as exciting perhaps as sitting on a tea-tray and doing up to 120kph down a bobsleigh track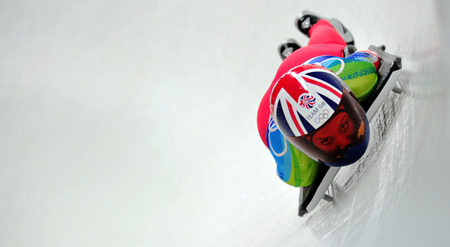 Amy Williams
photo Clive Mason
Posted by john at 08:09 AM | Comments (0)
February 22, 2010
said lead type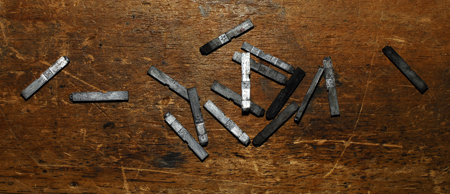 8pt lead type
don't know what typeface it is - bit small to tell at 8pt, but if you're keen, Mr Jones, chairman of the Holmfirth Typographical Society, is your man.
Posted by john at 05:51 PM | Comments (0)
February 21, 2010
and talking of printing ink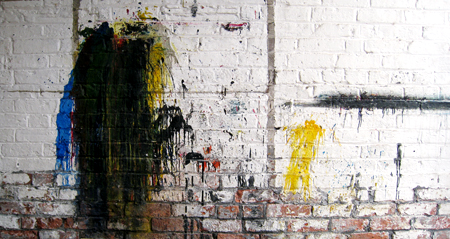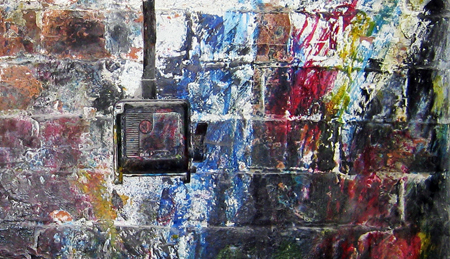 More magenta, yellow, cyan and black on the walls.
I guess it goes hand-in-glove with living in an old printworks. That and crunching lead type underfoot on the way to the bathroom in the middle of the night.
Posted by john at 12:27 PM | Comments (1)
February 20, 2010
old wall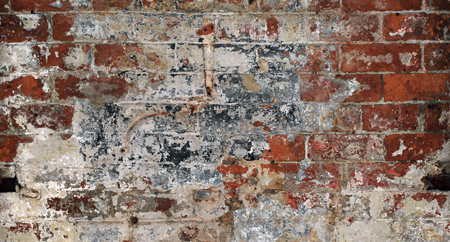 red brick, paint and printing ink
Posted by john at 10:18 AM | Comments (0)
February 19, 2010
Old Tree
Well, it isn't that old. OK, the tree maybe, but not the photograph, I just made it look old with digital fiddle.
Posted by john at 09:53 AM | Comments (0)
February 18, 2010
unstuck redux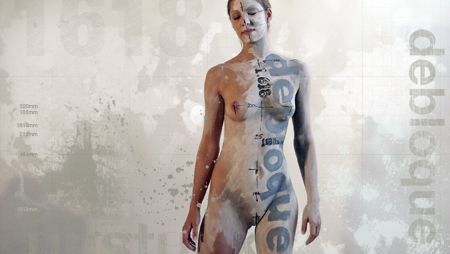 image taken from the French series debloque
Posted by john at 01:18 PM | Comments (0)
February 15, 2010
odd images stuck around the bottom edge of the hard drive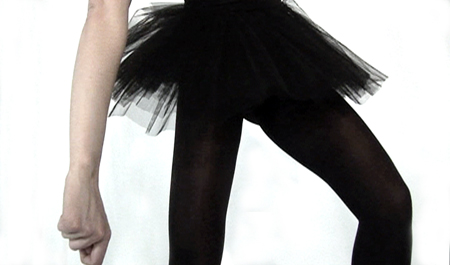 Posted by john at 08:05 PM | Comments (0)
February 14, 2010
Bosch Woscher
excitement at the Printworks this week as we took delivery of a new machine to wash the clothes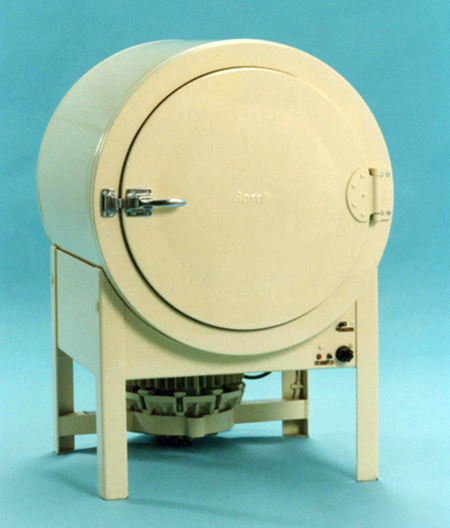 sadly it doesn't look like this one, though this is indeed a Bosch Woscher.
Posted by john at 03:49 PM | Comments (0)
February 10, 2010
Shakespeare & drawing
William knew about drawing too,
and the concentration it takes:
OPHELIA:
He took me by the wrist and held me hard;
Then goes he to the length of all his arm;
And, with his other hand thus o'er his brow,
He falls to such perusal of my face
As he would draw it.
Long stay'd he so;
At last, a little shaking of mine arm
And thrice his head thus waving up and down,
He raised a sigh so piteous and profound
As it did seem to shatter all his bulk
And end his being: that done, he lets me go:
And, with his head over his shoulder turn'd,
He seem'd to find his way without his eyes;
For out o' doors he went without their helps,
And, to the last, bended their light on me.
Hamlet, Act II Scene I
by Will Shakespeare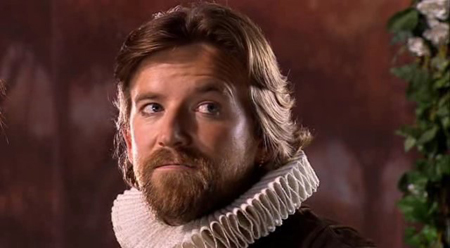 played by Dean Lennox Kelly
Posted by john at 06:11 PM | Comments (0)
February 08, 2010
so farewell then...
JOHNNY DANKWORTH.
He once said that of all the drawings and paintings of saxophones he'd seen [and one must assume he'd seen a few] my drawing was the only one he felt he could play.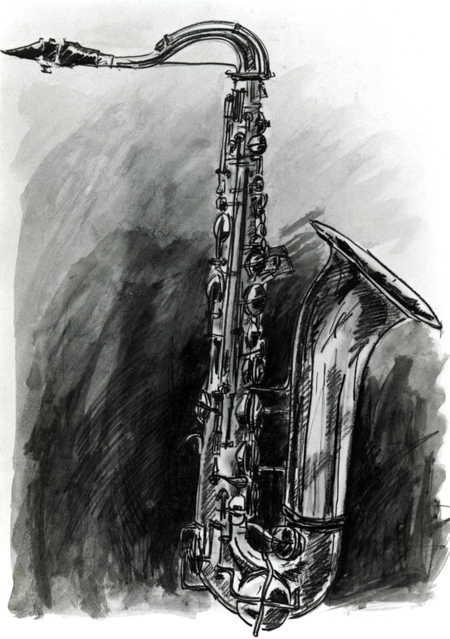 saxophone, charcoal and wash on paper, 1988
Posted by john at 07:18 PM | Comments (1)
February 06, 2010
Sola Topee
The name comes not, as one might at first imagine, from anything to do with the sun, though it is worn in the tropics to protect the nut from said fiery orb.
The sola in question is the Aeschynomene aspera, from the family Fabaceae, of which the humble garden pea is a member. Also known as the Sola Pith Plant, it's wont to grow in the swamps of Asia and the sub-continent. It's the spongy innards, or pith, from the stalks of this plant that provides the raw material for making such lightweight hats [or fishing floats if you'd rather].
Hence the other name for this headgear: Pith Helmet.
Oh, and topee comes from the Hindi for hat: topi.

Posted by john at 04:04 PM | Comments (2)
Me!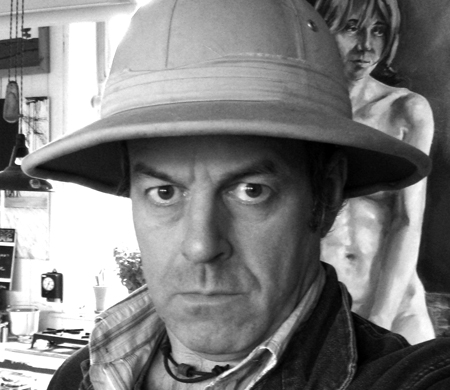 for Ruth
Posted by john at 02:41 PM | Comments (1)
February 04, 2010
plundering the photo drawer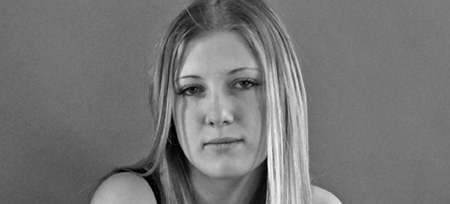 Mel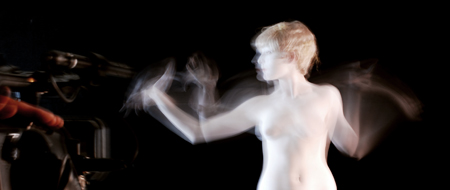 dancer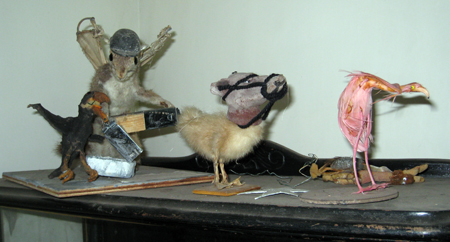 Faulty Optic's studio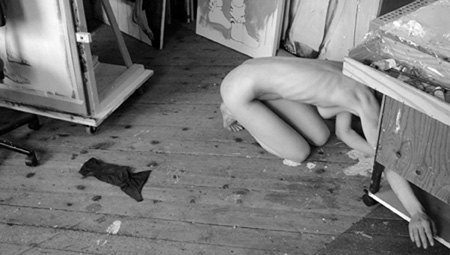 life model
Posted by john at 10:26 PM | Comments (1)